Hugh Jackman Reveals 'Pan' Teaser: "Welcome To Neverland"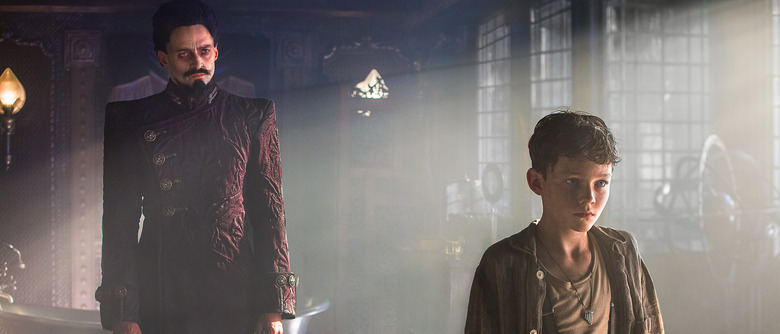 Warner Bros. has only released one trailer so far for Pan, Joe Wright's colorful reimagining of J.M. Barrie's classic Peter Pan. But with only three months to go until the film's debut, look for the marketing team to start picking up the pace. Perhaps with an assist from Hugh Jackman now and then.
The star has shared a new Pan sneak peek in which he (as villainous pirate Blackbeard) welcomes you to Neverland. Watch the Pan teaser after the jump.
Jackman offered the new Pan teaser on Instagram.
A video posted by Hugh Jackman (@thehughjackman) on
If the first trailer left you cold, the new Pan teaser doesn't offer enough to change your mind. That said, it leans in on the earlier promo's greatest strength — the eye-popping visuals, courtesy of Wright. So many of the fantasy movies released over the past decade and a half have had a dispiriting sameness to them, so it's refreshing when one actually takes advantage of the genre to offer something new and unique.
Young newcomer Levi Miller leads the cast as Peter Pan himself, a young orphan whisked away to the magical world of Neverland. Garrett Hedlund stars as a version of Hook that seems to have watched too many Indiana Jones movies growing up. And Rooney Mara plays Tiger Lily, in a casting choice that brought accusations of racism. Also starring are Amanda Seyfried, Cara Delevingne, and Adeel Akhtar.
Pan lands July 24, 2015.
From Warner Bros. Pictures comes, "Pan," a live-action Peter Pan feature directed by Joe Wright ("Atonement," "Pride & Prejudice"). Offering a new take on the origin of the classic characters created by J.M. Barrie, the action adventure follows the story of an orphan who is spirited away to the magical Neverland. There, he finds both fun and dangers, and ultimately discovers his destiny—to become the hero who will be forever known as Peter Pan.