New 'Star Wars Battlefront' Trailer: Star Wars Vehicles And Locations Come To Life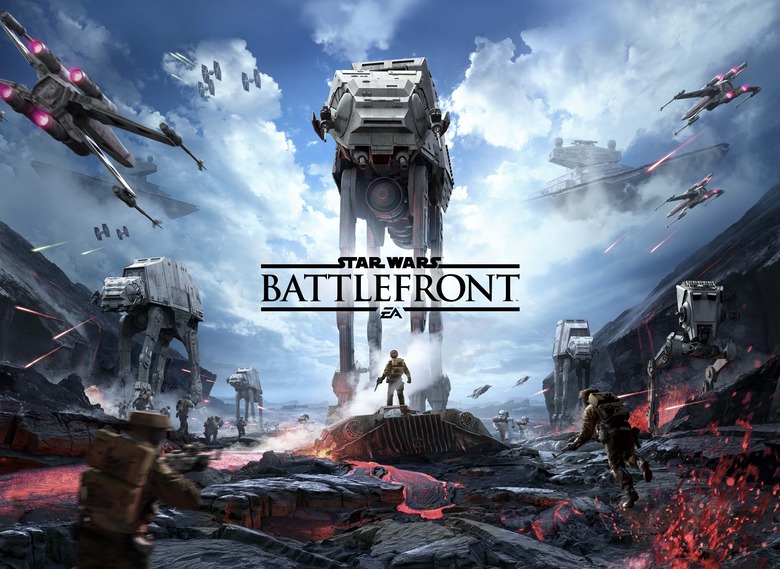 Want to fly an X-Wing or the Millennium Falcon, but as Darth Vader or Boba Fett? If you can dream it, the new video game Star Wars Battlefront can do it. The highly anticipated game by EA and Dice will be out November 17 and will help you live out your greatest Star Wars battle fantasies.
No matter what weapon, ship or planet you want, odds are Battlefront can combine them to make it happen. Plus, every single TIE Fighter, AT-AT, blaster etc. is an exact photo recreation of the prop from the Lucasfilm archives, meaning this is the closest you'll ever get to looking at and handling a real one, unless you travel to a galaxy far, far away.
This is all on prominent display in the new Star Wars Battlefront trailer, which was unveiled at Star Wars Celebration. Watch it below.
Here's the video courtesy of EA.
Star Wars Battlefront trailer
And here are a few images from the game, including the key art.
Ahead of their Celebration panel, EA gave a group of journalists a sneak peak at Battlefront and we were lucky enough to be on hand. In addition to the trailer above, we saw an extended game play clip as a group of players collaborated in a mulitplayer campaign on Endor. The detail was stunning and as Rebel troops ran around the forest killing Stormtroopers. The action shifted between first and third person as the laser blasts burst all over the forest. Then, an AT-ST walker appeared. With help from some friends, it gets taken out. Then, an AT-AT shows up. Searching for an uplink, the Rebels called in some Y-Wings to take it down. Finally, the Rebels enter the bunker and, all of a sudden, one gets lifted off the ground. He is being force choked and slammed into a wall. Then that unmistakable sound of a lightsaber rings out. Darth Vader is there and begins to attack you with his saber just as the demo ran out.
The presentation continued with lots of interesting facts on the game, such as the "photogrammetry" described above. That's when an object is photographed from all sides, then recreated in a computer, which is what the team did at Lucasfilm. The game makers were also allowed to use the original sounds and music from the films. Plus, on PC, Battlefront will be the first game ever in Dolby Atmos.
Here's the full press release on Star Wars Battlefront, including info on a Force Awakens tie-in.
DICE, an Electronic Arts Inc. Studio, and Lucasfilm announced today that Star Wars Battlefront will be released beginning November 17, 2015 in North America (November 19 in Europe) as the first full-length trailer for this highly anticipated title premiered to thousands of fans at Star Wars Celebration. Combining an unprecedented collaboration with Lucasfilm and the award-winning Frostbite™ game engine, Star Wars Battlefront will deliver an incredibly authentic and immersive interactive entertainment experience featuring photorealistic visuals and epic action in iconic Star Wars locations. See how this comes to life in-engine by experiencing the newest trailer for Star Wars Battlefront at http://starwars.ea.com/battlefront.
"Like so many others around the world, everyone at DICE is a tremendous fan of the Star Wars universe," said Sigurlina Ingvarsdottir, Senior Producer of Star Wars Battlefront. "To be working on a Star Wars project and knowing we are helping to represent the universe we love to our generation and a legion of new Star Wars fans is truly an honor. Thanks to the access and knowledge shared with us by Lucasfilm, and the passion and talent of our team, we plan to deliver an amazing game that puts you right in the middle of the Star Wars battles you always imagined playing."
Star Wars Battlefront will allow fans to live out a wide range of heroic moments and intense battle fantasies of their own – firing blasters, riding speeder bikes and snow speeders, commanding AT-ATs and piloting TIE fighters and the Millennium Falcon. These battles will take place on some of the most iconic planets in the Star Wars universe, including Endor, Hoth, Tatooine and the previously unexplored planet, Sullust. Gamers will be able to play as some of the most memorable characters in the original trilogy such as Darth Vader and Boba Fett. Star Wars Battlefront will feature a wide range of modes tailored for different types of battles, from larger 40-person competitive multiplayer to crafted missions that are played solo, with a friend via split-screen offline or co-operatively online.
Fans who pre-order Star Wars Battlefront will be among the first players to experience the Battle of Jakku, the pivotal moment when the New Republic confronted key Imperial holdouts on a remote desert planet on the Outer Rim. Taking place in the aftermath of the Rebel victory in the Battle of Endor, players will experience the events that created the massive, battle-scarred landscape of Jakku shown in Star Wars: The Force Awakens. Players who pre-order Star Wars Battlefront can fight the battle one-week early starting on December 1, 2015. All other players will get access to this free† content on December 8, 2015.
Star Wars Battlefront will be available in North America on November 17 and starting November 19 in Europe for the PlayStation4 computer entertainment system, Xbox One, the all-in-one games and entertainment system from Microsoft and on Origin for PC. To join the Star Wars Battlefront conversation please visit www.facebook.com/EAStarWars, follow us on Twitter at www.twitter.com/EAStarWars or sign up for the official EA Star Wars newsletter at http://starwars.ea.com/newsletter. Press assets for Star Wars Battlefront are available at http://info.ea.com.