Video Blog And Photos From The 'Tomorrowland' Sneak Preview At Disneyland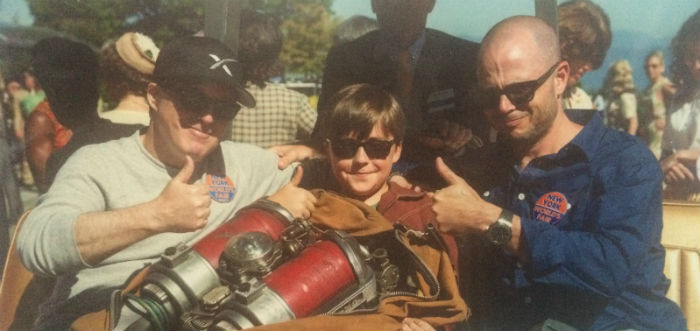 Where better to learn more about Tomorrowland than in Tomorrowland?
At the Tomorrowland theme park at Disneyland (and soon Epcot in Disney World) Disney has opened a brand new preview of Brad Bird's Tomorrowland. In addition to 10 minutes of footage from the 1964 World's Fair section of the film, there's a a mysterious selection of images before you enter the theater, followed by a prop and concept art exhibit that offers some amazing teases at what the future holds for fans come May 22.
Below see a bunch of photos from the Tomorrowland Disneyland sneak peak, which opens April 17 for fans at Disneyland in California, and watch our video blog reaction.
So when you enter the Captain Eo Theater in Tomorrowland, you first get to see a bunch of images, concept art and set photos from the 1964 World's Fair set of Tomorrowland. Here are just a few of the images, including some behind the scenes set photos:
Next, you go into the theater and see about a 10 minute clip explaining those images. A clip which we describe and react to in this video.
Tomorrowland Disneyland Video Blog
In that video, you probably noticed a bunch of cool stuff on and around the walls. Well, here are some of those images too.
As you can tell, Tomorrowland looks like it has the potential to be something special. If for some reason it's not, it won't be for lack of trying. The team behind the film truly put in a lot of thought and even more work into creating an original film that's rich in mythology and character. It's the kind of thing we complain we don't get enough of.
Tomorrowland opens May 22. Directed by Brad Bird, co-written by Damon Lindelof and starring Britt Robertson, George Clooney and Hugh Laurie, here's the official plot description:
From Disney comes two-time Oscar winner Brad Bird's "Tomorrowland," a riveting mystery adventure starring Academy Award winner George Clooney. Bound by a shared destiny, former boy-genius Frank (Clooney), jaded by disillusionment, and Casey (Britt Robertson), a bright, optimistic teen bursting with scientific curiosity, embark on a danger-filled mission to unearth the secrets of an enigmatic place somewhere in time and space known only as "Tomorrowland." What they must do there changes the world—and them—forever.
Featuring a screenplay by "Lost" writer and co-creator Damon Lindelof and Brad Bird, from a story by Lindelof & Bird & Jeff Jensen, "Tomorrowland" promises to take audiences on a thrill ride of nonstop adventures through new dimensions that have only been dreamed of.
The film also stars Hugh Laurie as brilliant scientist David Nix, Raffey Cassidy, Tim McGraw, Kathryn Hahn, Keegan-Michael Key and Thomas Robinson.
"Tomorrowland" is produced by Damon Lindelof, Brad Bird and Jeffrey Chernov and directed by Brad Bird, with John Walker, Bernard Bellew, Jeff Jensen and Brigham Taylor serving as executive producers. "Tomorrowland" opens in U.S. theaters on May 22, 2015.