'Star Wars: The Force Awakens' Images: New Character Pics And Behind The Scenes Images Revealed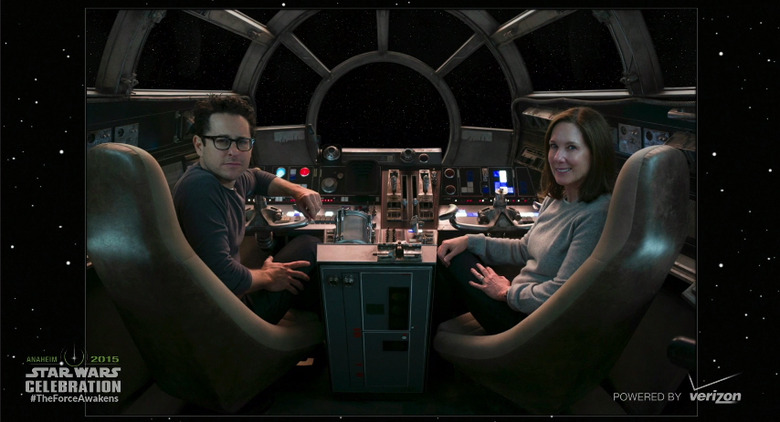 Star Wars Celebration got off to a rousing start today with the Star Wars: The Force Awakens panel. Details were spilled, footage was revealed, cast members were celebrated — and among all that, a bunch of new official images were revealed.
Some were stills featuring characters like Rey (Daisy Ridley), Fin (John Boyega), and Poe Dameron (Oscar Isaac); others were behind-the-scenes images of director J.J. Abrams, Kathleen Kennedy, and more. Flip through the new Star Wars 7 images after the jump.
First up, here's a look at some behind-the-scenes snaps.
While we can expect plenty of CG magic in Star Wars: The Force Awakens, there's also a clear emphasis on practical sets and effects — what Abrams calls a "retro approach."
"When we were working on pre-production, the thing that struck me is just how real you knew and felt Star Wars was when you first saw A New Hope," he said. "That feeling of actually being [there] — whether they were shooting in Tunisia or various physical sets — you couldn't deny it."
He continued, "We needed to set a standard that was real, where you knew those people were in those places." To that end, he said, "we built as much as we possibly could."
That decision also took them to some far-flung locations, like Abu Dhabi — which stood in for the planet of Jakku, not Tatooine as previously rumored. Though the temperature climbed to an uncomfortable 128 degrees, Abrams felt it was important to go there. "One thing you expect and want to see [in a Star Wars movie] are real tangible John Ford landscapes, and shooting in Abu Dhabi did just that."
Along with the behind-the-scenes pics, we also got some new Star Wars 7 images featuring the three lead characters.
Here's how each of the actors describes their characters:
Daisy Ridley on Rey: "She is a scavenger in a ship graveyard. She is very solitary until she meets another character, and an adventure begins."John Boyega on Fin: "He's in incredible danger, and the way he reacts changes his life, number one, and launches him into the Star Wars universe in a very unique way." Pressed for more details, Boyega joked, "my memory's just gone."Oscar Isaac on Poe Damreon: "He's the best frickin' pilot in the galaxy, that's who he is. He's been sent on mission by certain princess. He ends up coming across John Boyega's character and their fates are forever intertwined."
And finally, here are a few snaps from the event itself. In addition to the new cast members, classic stars Carrie Fisher, Mark Hamill, Peter Mayhew, and Anthony Daniels showed up to wave to the Celebration crowd. Also of note are the close looks at the new Stormtroopers and the BB-8.
Star Wars: The Force Awakens lands in theaters December 18, 2015.