JJ Abrams Buys Pizza For 1,500 Fans In Line At Star Wars Celebration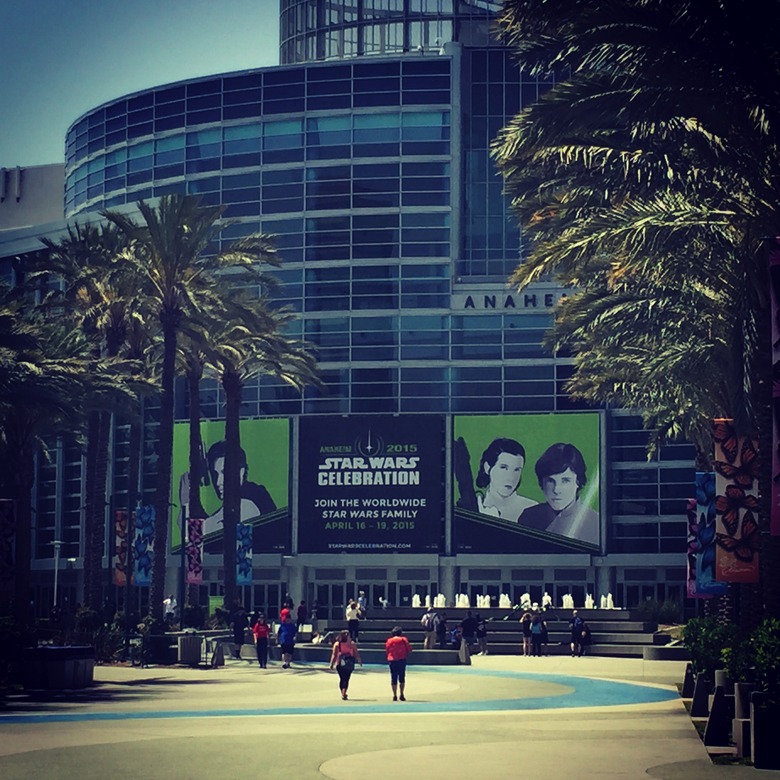 Star Wars Celebration begins today at the Anaheim Convention Center, but fans started lining up at 5am on Wednesday morning, 29 hours before the opening ceremony for the Star Wars fan convention. The panel is expected to be a presentation featuring a trailer and possibly more for the next installment of the franchise, Star Wars: The Force Awakens.
Director JJ Abrams and producer Kathleen Kennedy will be present alongside some unannounced "special guests" at the presentation that begins at 10:00am pacific time and will be streamed live around the world on StarWars.com. But I don't think Lucasfilm and Abrams expected such a huge turnout on the day before the convention, and the result is an incredible show of generosity.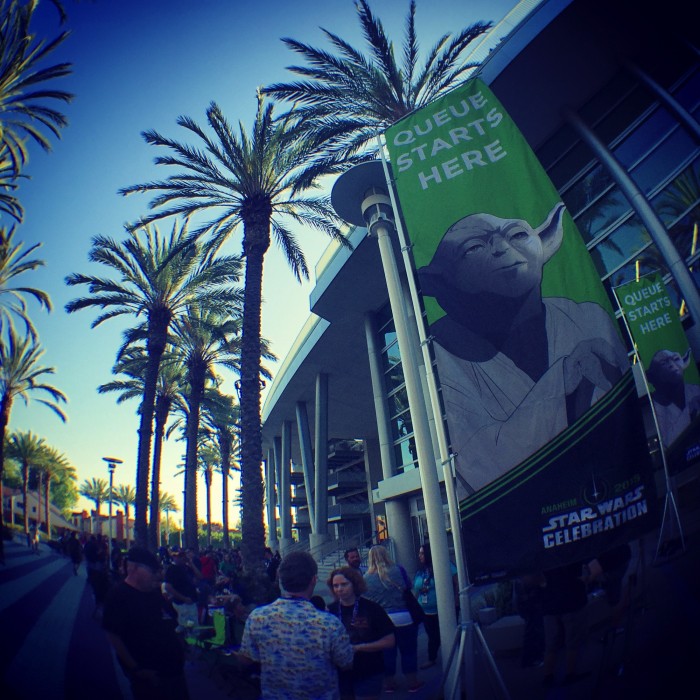 I arrived at Star Wars Celebration on Wednesday and spent some time waiting in the massive line with friends and fellow Star Wars fans.
At 6:00pm, Celebration moved the line indoors to the Anaheim Convention Center basement, and at that time there were about 700 fans in line. The line quickly grew, and by midnight had a packed crowd of an estimated 1,500 attendees.
I was tweeting photos live from the line at my twitter account @slashfilm and Star Wars Episode VIII director Rian Johnson responded:
Around 9:30pm, it was announced to the crowd that JJ Abrams and Kathy Kennedy had bought pizza for the fans waiting overnight in line. How cool is that?
From what I've heard, JJ Abrams heard about the massive line of tireless Star Wars fans and wanted to reward them for their dedication. This was definitely not a publicity stunt or something that was planned in advance. Pizza was ordered, and arrived to the convention center in increments of 25 pies at a time.
Watch: Pizza from Star Wars director JJ Abrams and producer Kathy Kennedy arrives to the #celebration line
Overheard in the Star Wars #celebration line: "But JJ Abrams should've bought us all sleeping bags..." LOL

— /Film (@slashfilm) April 16, 2015
While the Convention Center's arena supposedly fits up to 9,100 people, the configuration for a presentation of this scale cuts those numbers to something like 5,000. Fans who are unable to make it into the arena presentation will be put in other overflow rooms where the presentation will be projected on big screens.
Breaking: Lightsaber fight outside the convention center #celebration
A video posted by Peter Sciretta (@slashfilm) on Apr 15, 2015 at 8:18pm PDT
You will be able to stream the Force Awakens presentation live as it plays out. Check back on slashfilm.com for the video embed. Germain Lussier and I will both be at Star Wars Celebration for the entire convention. Over the next four days we'll be posting updates and reports from all the major panels. We've both huge Star Wars geeks and very excited to be here. If you see us around, please come say hello.