'Constantine' Cancelation Report Was Premature [Updated]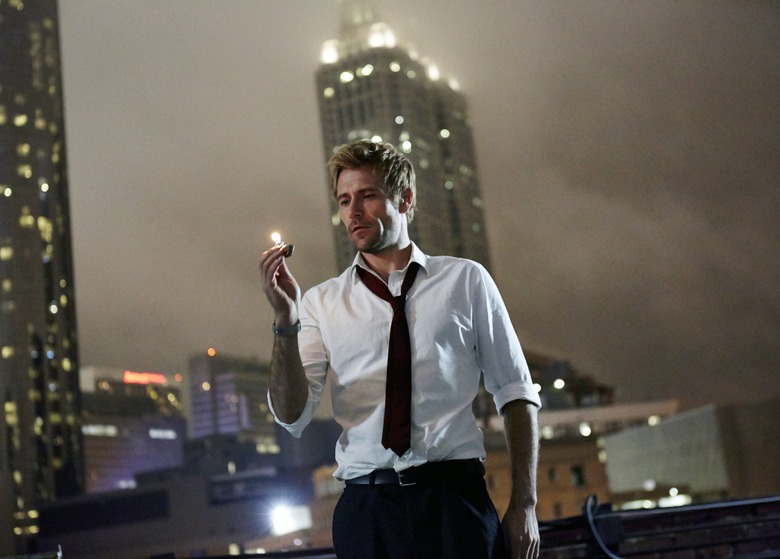 It seems like every comic book property in existence is getting a TV show nowadays, but that doesn't mean they're always successful. NBC has just given the axe to Constantine, which starred Matt Ryan as the Vertigo Comics antihero. More on the Constantine cancellation after the jump.
Update: The original report has been redacted somewhat — Constantine isn't yet officially dead. The series' showrunner has weighed in as well. More below after the original article text.
The Constantine cancellation was first reported by Buzzfeed's Kate Arthur. While NBC has yet to issue a formal statement, Arthur makes point of saying she's done her research.
#Constantine fans: I factchecked my renewals/cancellations/bubble post with each network. http://t.co/VHllpQqirp pic.twitter.com/JJdqWedi7B

— Kate Aurthur (@KateAurthur) April 14, 2015
The Constantine cancellation is not terribly surprising, though it does arrive a bit earlier than expected. Showrunner David Cerone previously said the network would make a decision at the end of April.
Constantine was initially criticized by comic book fans for straying too far from the source material, and never did garner the kind of popular buzz that other comic book series — like Fox's Gotham, ABC/Marvel's Agents of S.H.I.E.L.D., and The CW's Arrow and The Flash — are currently enjoying.
It did find its footing as the season went on (or so I've heard — I'm one of the many people who never saw the show; sorry, fans), and in time built up a devoted fanbase. But the audience never got all that big, so it continued to struggle in the ratings. Last fall, the network opted not to extend the initial 13-episode order.
NBC Entertainment president Jennifer Salke has been frank about her disappointment in the show's performance. "We wish the show would've done better live," she said in January. Chairman Robert Greenblatt added, "We got on the comic books bandwagon. Maybe there are too many of them."
This is especially unfortunate news seeing as an earlier rumor that Constantine might shift over to Syfy turned out to be bunk. It's still theoretically possible another network could swoop in and save the show, but the demon-hunting detective's days at NBC seem to over.
Update: Kate Arthur updated, with a statement that boils down to this:
#Constantine faithful, my source at NBC tells me your show is still awaiting news. We'll see! http://t.co/psq8C9ohIr pic.twitter.com/F3igSu5CeD

— Kate Aurthur (@KateAurthur) April 14, 2015
And showrunner Daniel Cerone gave a lengthy statement to ComicBook.com.
I just received confirmation from the corporate offices at NBC. I was assured that Constantine has not been canceled and our pitch meeting to discuss a potential second season remains on the books. By the way, this is a pitch meeting involving the president of Warner Bros and and the entertainment heads of NBC. Nobody at this incredibly busy time of the development season has time to waste taking pointless meetings.
Now, is it fair to say that Constantine is a long shot? Sure, that's fair to say. While we marginally improved a tough time slot for NBC, we're a very expensive show to produce. A lot of NBC's decision making will not doubt hinge on their new pilots and how they feel those new shows would fare as a companion piece to Grimm, versus a second season of Constantine.
So John Constantine isn't dead yet, whether via cancer, demons, or disinterested viewers. We'll keep you updated on his progress.