Watch: Walt Disney's Connections To 'Tomorrowland,' Plus New Featurette And Prequel Info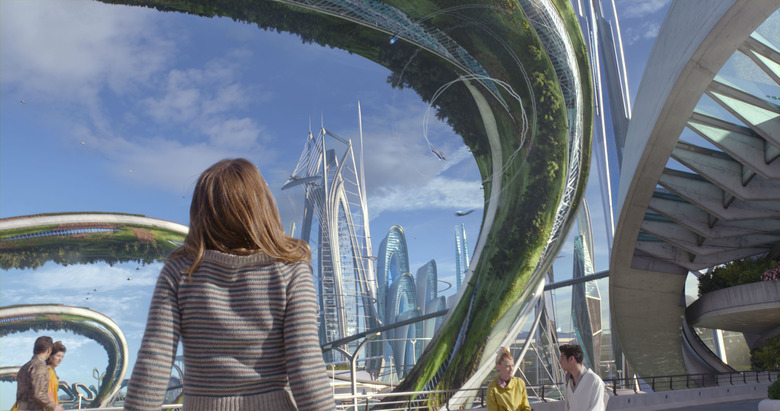 Walt Disney and his theme parks exist in the world of Brad Bird's Tomorrowland. That's a secret the cast and crew kept for a long time but in the past few videos and trailers, it's become abundantly clear. The question then becomes, how much of an influence was Walt on this movie, which is named after something he first created in the 1950? A few new featurettes give some tantalizing teases at these connections alongside glimpses of a few other things from the film.
Plus, a new novel serves as a prequel to Tomorrowland and offers even more context. Find out more about the Tomorrowland Walt Disney connections below.
First up, here's a new Tomorrowland video about Walt Disney's connections to the film, via Mashable.
Tomorrowland Walt Disney Connections
Disney also debuted a more general featurette on the film.
If you want even more Tomorrowland, Entertainment Weekly has a super interesting article on Beyond Tomorrowland, a new prequel novel co-written by Jeff Jensen, who helped conceive the film with Damon Lindelof before Brad Bird came on board.
It's a distant prequel to the movie. You will not meet any characters from the movie in this story, but you will get to know in a pretty deep way the organization that's responsible for Tomorrowland.
We teased this book a little earlier this year, but this article explains more of how the 1939 set story sets up what we'll see on the May 22 film:
The city was the grand gesture of this organization. It wasn't the goal of the group from the start, but over time it became the goal: A living laboratory where things are always changing and the best ideas are either given to the world or saved for a time when the world can handle it.
Are you looking forward to Tomorrowland? Do you still want to know more or are you sold?