Star Wars Celebration Will Live Stream All Weekend, Including 'The Force Awakens' Panel [UPDATED]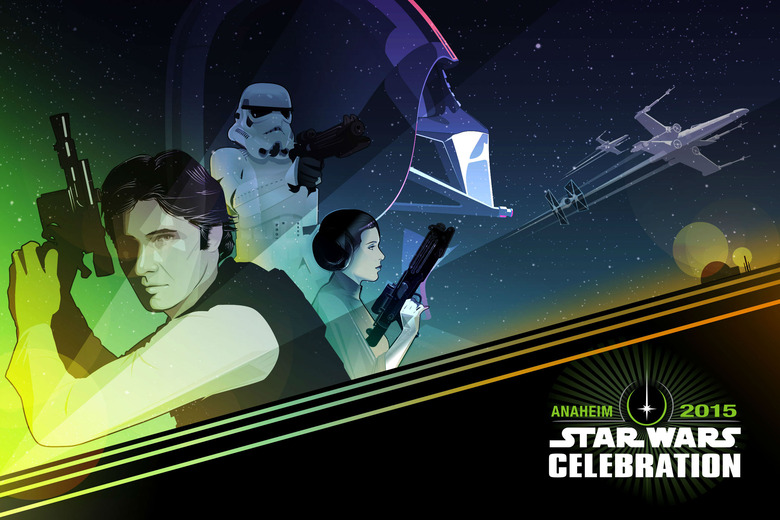 Can't make it to Star Wars Celebration in Anaheim this weekend? You have two options. You can keep your eyes locked on /Film for our extensive coverage, or you can just go to StarWars.com and live stream 30 hours of content including the Star Wars: The Force Awakens panel on Thursday morning. For free. Below, read more about the Star Wars Celebration live stream.
UPDATE: The official Star Wars Twitter has confirmed that any exclusive footage debuting over the weekend will be a part of the live stream. It won't cut out.
The Star Wars Celebration live stream was announced on StarWars.com. Here's the info:
For the first time ever, highlights and more than 30 hours of exclusive video content from Star Wars Celebration Anaheim will be officially live streamed to a worldwide community of fans on StarWars.com, all powered by Verizon.Launching with a live stream of the highly-anticipated kickoff panel featuring Star Wars: The Force Awakens director J.J. Abrams and producer Kathleen Kennedy, the StarWars.com Celebration live stream powered by Verizon will continue providing coverage throughout the four-day event from a specially-designed Star Wars Cantina set located in the middle of the action on the convention floor.Verizon and StarWars.com will deliver 30-plus hours of live streamed content following Thursday's Celebration kickoff, featuring over a dozen panels and events, including discussions with actors Mark Hamill, Carrie Fisher, Anthony Daniels, Billy Dee Williams, Ian McDiarmid, and several other performers associated with the Star Wars saga. Additionally, StarWars.com and Verizon will be live streaming the Star Wars Fan Film Awards; the Smuggler's Bounty radio drama; EA's new Battlefront videogame; and several other exclusive Celebration events that might otherwise be missed by members from Star Wars' global fan community.Between the live, on-stage events, StarWars.com will feature live interviews with celebrity guests within the Star Wars Cantina set specially built to capture the mood and atmosphere of the infamous Mos Eisley watering hole from A New Hope. These segments will have a fun, variety show flavor to them that brings a bit of the Star Wars Celebration vibe to those enjoying the event from afar.Exclusive clips from throughout Star Wars Celebration event will also be available on demand from Verizon, allowing fans to celebrate Star Wars long after the live streams are over.The live streaming begins at 10:00 a.m. PST, Thursday, April 16, on StarWars.com with the Celebration kickoff panel and continues with 30-plus hours of coverage through the closing ceremony on Sunday, April 19, beginning at 3:30 p.m. PST. Watch exclusive highlights and on-demand clips from Verizon on Twitter,@VerizonWireless, and at Facebook.com/Verizon.UPDATE:
@antovolk @SW_Celebration Yes. It will.

— Star Wars | #TheMandalorian is Now Streaming (@starwars) April 14, 2015
That means any trailers, clips or teases that screen at panels throughout the weekend, you can see them live, online, for free. Other live streams at events like this sometimes cut out and don't let you see the footage.
So what should you be on the look out for? Read our list of most anticipated panels at this link. And then keep an eye on /Film for coverage directly from Anaheim.