Miles Teller To Lead 'Home Is Burning', Directed By Jonathan Levine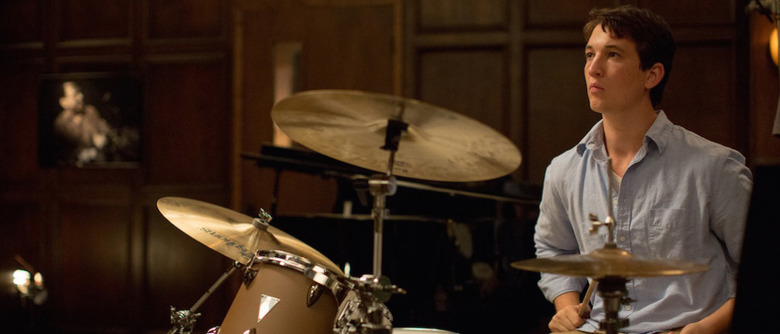 50/50 director Jonathan Levine is going back to the cancer well, this time with Miles Teller. Levine is attached to direct Teller in Home Is Burning, based on Dan Marshall's upcoming memoir about returning home to care for his ailing parents. Get all the details on the Miles Teller Home Is Burning project after the jump. 
THR reports New Line beat out several other interested parties to acquire Home Is Burning. Teller and Levine will produce. It's Teller's second producing gig, after attaching himself to The Life and Times of the Stopwatch Gang last month. Levine previously produced the USA series Rush, and is set to produce the comedy Mike and Dave Need Wedding Dates.
Marshall will write the Home Is Burning script based on his own book, which hits shelves in October. Though the story has a downer premise, it's offset by a strong current of humor. In terms of tone, it's been compared to the work of David Sedaris and Dave Eggers. Here's the book synopsis:
Dan's mom has always had cancer. First diagnosed when he was only ten years old, she was the model of resilience throughout his childhood, fighting her disease with tenacity and a mouth foul enough to make a sailor blush. But just as she faces a relapse, her husband is diagnosed with ALS. Dan, a recent college graduate living the good life in Los Angeles, has no choice but to return home to help.
Reinstalled in his parents' basement Dan is reunited with his siblings. His older sister Tiffany is resentful, having stayed closer to home to bear the brunt of their mother's illness. Younger brother Greg comes to lend a hand, giving up a journalism career and evenings cruising Chicago gay bars. Michelle, a sullen teenager is experimenting with drinking and flirting with her 35-year-old soccer coach. And baby sister Chelsea-the oddest duck in a family of misfits- lives in a dream world centered around dance. Together this unlikely group forms Team Terminal, going to battle against their parents' illnesses, and occasionally each other. Not even the family cats escape unscathed.
As Dan steps into his role as caregiver, wheelchair wrangler, and sibling referee, he watches pieces of his previous life slip away, and comes to realize that you don't get to choose when it's time to grow up.
Home Is Burning sounds like a great fit for Levine, who proved with 50/50 that he could balance drama and comedy. Teller, too, has a knack for bringing wit to serious material. He even managed to be funny in last month's Insurgent, which was otherwise completely devoid of humor and charm.
Teller is coming off of Whiplash and is now shooting Todd Phillips' Arms and the Dudes. His other upcoming releases include Fantastic Four and the boxing biopic Bleed for This. Levine recently wrapped an untitled Christmas comedy starring Joseph Gordon-Levitt, Seth Rogen, and Anthony Mackie.