Star Wars Bits: Rogue One, Celebration Preparation, Battlefront, Oscar Isaac And Carrie Fisher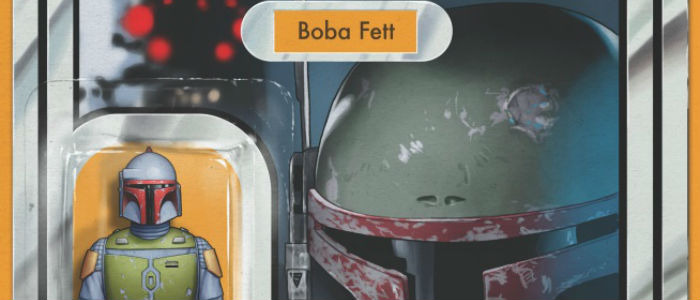 Star Wars Celebration leads the charge in this edition of Star Wars Bits, with lots of info on the event. Plus, video games, set stories and more. Below, read about the following:
Felicity Jones says she's starting to get ready for Star Wars: Rogue One.
Hear Carrie Fisher talk about being scared on the set of Star Wars.
Get details on attending Thursday's Celebration Star Wars: The Force Awakens panel and see the floor plan.
Daredevil's showrunner would love to do a live action Star Wars series.
Oscar Isaac explains how he learns about Force Awakens online spoilers.
Footage from Visceral's untitled Star Wars game likely to debut at E3.
A tease from the Star Wars Battlefront reveal, as well as a potential release date.
See the Boba Fett action figure variant cover of Star Wars #4.
Details have been revealed of the Star Wars cruise packages.
The cast has been revealed for the Smuggler's Bounty reading at Celebration.
The Force Awakens novelization might be delayed until 2016.
Listen to the funny advice Harrison Ford gave to Oscar Isaac on the set of The Force Awakens.
MTV talked to Felicity Jones who is getting ready to star in Star Wars Rogue One.
Entertainment Weekly has posted a transcript, and video, of an conversation Carrie Fisher had in 1976 as she was getting read to swing across the gap on the Death Star. There's also an interview with Ben Burtt on how he created the sound of a lightsaberg. Read and listen here.Star Wars Celebration starts Thursday and, if you're going, you'll want to read this page about lining up for the special Force Awakens panel at 10 a.m. Also, at this link, you can see where the line will be as well as all the other stages and booths.
Plus, if you don't make it into the panel, head over the Celebration store where even more exclusive merchandise has been revealed.
Questioned on Twitter, Daredevil showrunner Steven DeKnight said he would be very, very interested in helming a live action Star Wars series. Here's the Tweet:
I would force choke a fool to spearhead that. RT @ThePeteAwakens: Can we just let @netflix do a (cont) http://t.co/HbyRhohpDG

— Steven DeKnight (@stevendeknight) April 11, 2015
In a fun interview with Uproxx, Oscar Isaac talked about Ex Machina, Star Wars: The Force Awakens, and the fun circumstances of how he learns about what spoilers from the movie have made it online.
This week will see the debut of new footage from EA's Star Wars Battlefront. However, that's not the only new Star Wars game in development. Visceral Games is also working on a mystery game set in the universe and a new report says the first footage and information will be at E3 in June.
Speaking of Battlefront, this video from EA gives you an idea of what to expect. Also, in this video, they explore a website who may have revealed the release date of December 10, 2015. That's a rumor.
The right team working on the franchise you love. A personal message from @DICEfigge #StarWarsBattlefronthttps://t.co/osxGSebf84

— EA Star Wars (@EAStarWars) April 8, 2015


Comic Book revealed the Boba Fett action figure variant cover of Star Wars #4, which will be released April 22.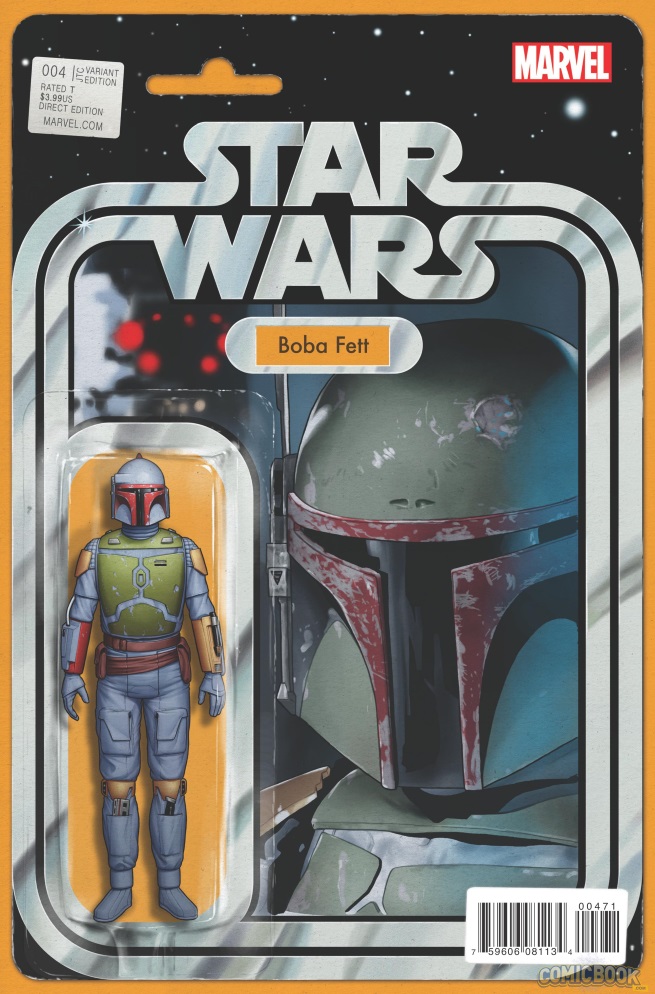 Inside the Magic has some videos and photos from a recent presentation at Walt Disney World about the new events happening on Disney Cruises. Among them, details on the Star Wars cruises. Click on the link to read more and see the video.StarWars.Com has revealed the cast of Smuggler's Bounty, the live read directed by Kyle Newman that takes place this weekend at Star Wars Celebration. Among them: Matt Lanter, Matthew Wood, Jaime King, Sam Witwer, James Arnold Taylor and Scott Porter. Read the full list at the link.
In the interest of protecting spoilers, Jedi Bibliotech (via JediNews) reports they think the official novelization of Star Wars: The Force Awakens will be delayed until 2016.
Here's a video clip of Oscar Isaac talking about the advice Harrison Ford gave him on the set of The Force Awakens, as well as dressing up as a Gonk droid.