'The Dark Tower' Movie Plan Fast-Tracked At Sony; Film And TV Combo Still Planned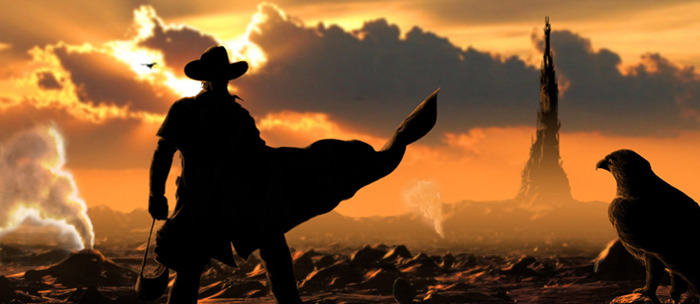 The Dark Tower, based on Stephen King's fantasy/western series of novels, has been in development for some time, with producers Ron Howard, Brian Grazer, Akiva Goldsman and Erica Huggins conceiving an ambitious plan for interlocked series of films and TV episodes that would tell the sprawling story over a span of several years. Their plan bounced from Universal to Warner Bros. and has seemed dead. But now Sony and Media Rights Capital (MRC) have picked up the Dark Tower movie plan, and are planning to fast-track the first film.Deadline has the info, and it sounds like things have both changed and stayed the same. What is the same: Akiva Goldsman is scripting, with Jeff Pinkner. And this film will be the first in a series, with MRC also developing a companion TV series.
What's different is that Ron Howard is no longer directing; Sony and MRC will take the new script out to directors shortly. And this is a completely rewritten script based mostly on the first novel, The Gunslinger, and deals primarily with the gunslinger Roland Deschain and the boy Jake Chambers who the Gunslinger meets while chasing his adversary across a vast desert.
Additionally, any previous cast attachments are gone. The film will be cast once a director is hired.
The Dark Tower will help Tom Rothman build up Sony's franchise options, which was one of his primary mandates after taking over the studio not long ago.
Stephen King said of the new development,
I'm excited that The Dark Tower is finally going to appear on the screen. Those who have traveled with Roland and his friends in their search for the Dark Tower are going to have their long-held hopes fully realized. This is a brilliant and creative approach to my books.