Lebron James Is Happy For Bill Hader In First 'Trainwreck' Clip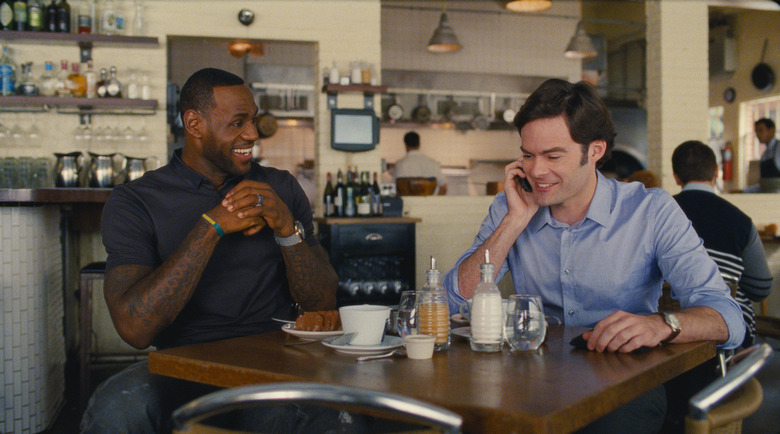 Knowing the comedy of Amy Schumer and Judd Apatow, you get the feeling there aren't many clips from the upcoming Trainwreck that are safe for work. They did manage to find one, though. It features Bill Hader's character calling Schumer's character the day after they sleep together. Notoriously promiscuous, Schumer's character and her friend (Vanessa Bayer) are very confused at the seemingly normal, kind gesture. Hader's friend, on the other hand, is loving it. Oh, and his friend is NBA MVP Lebron James.
Trainwreck opens July 17. Watch the first Trainwreck clip below.
Thanks to MTV for the clip.
First Trainwreck Clip with Lebron James, Bill Hader, Amy Schumer and Vanessa Bayer
I think this one is going to be really, really good. What about you?
Trainwreck opens July 17. Also appearing are Brie Larson, John Cena, Mike Biriglia, Ezra Miller, Marisa Tomei, Barkhad Abdi, Jon Glaser, Colin Quinn, and Randall Park.
Since she was a little girl, it's been drilled into Amy's (Schumer) head by her rascal of a dad (Colin Quinn) that monogamy isn't realistic. Now a magazine writer, Amy lives by that credo—enjoying what she feels is an uninhibited life free from stifling, boring romantic commitment—but in actuality, she's kind of in a rut. When she finds herself starting to fall for the subject of the new article she's writing, a charming and successful sports doctor named Aaron Conners (Bill Hader), Amy starts to wonder if other grown-ups, including this guy who really seems to like her, might be on to something.