'True Detective' Season Two Teaser: Locked Inside A Holy War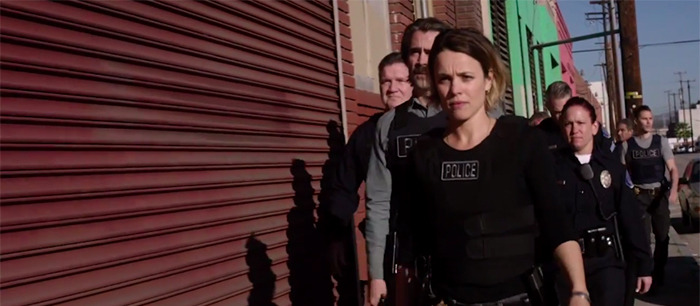 True Detective season two will premiere on June 21 on HBO, and now you can see the first footage from the new season. This tease doesn't offer much, but the very first shot of a California highway interchange seems to link right to early reports about the season. Then there are shots of the primary cast, including Colin Farrell, Vince Vaughn, Rachel McAdams and Taylor Kitsch, with some atmosphere that is similar to that of the first season — this looks just as heavy — but with a feel that is distinctly different. Check out the first True Detective S2 teaser below.
A few of those shots of sad Vince Vaughn and Colin Farrell wouldn't be out of place in the show's first season, but there's definitely a slightly different vibe here. Part of that comes from a directorial change — Cary Fukunaga, who helmed the entire first season, moved on to do different things. So creator Nic Pizzolatto and the producers selected a collection of directors to take charge of the new episodes, including Justin Lin (episodes 1 & 2), and Janus Metz Pedersen, Miguel Sapochnik, and Daniel Attias.
Here, by the way, are official shots of the four main cast members.
We have no idea what this song is, and neither Shazam nor Soundcloud can ID it. So speak up if you know it!
Trailer via HBO.
A bizarre murder brings together three law-enforcement officers and a career criminal, each of whom must navigate a web of conspiracy and betrayal in the scorched landscapes of California. Colin Farrell is Ray Velcoro, a compromised detective in the all-industrial City of Vinci, LA County. Vince Vaughn plays Frank Semyon, a criminal and entrepreneur in danger of losing his life's work, while his wife and closest ally (Kelly Reilly), struggles with his choices and her own. Rachel McAdams is Ani Bezzerides, a Ventura County Sheriff's detective often at odds with the system she serves, while Taylor Kitsch plays Paul Woodrugh, a war veteran and motorcycle cop for the California Highway Patrol who discovers a crime scene which triggers an investigation involving three law enforcement groups, multiple criminal collusions, and billions of dollars.