Ben Hardy Is Angel In 'X-Men Apocalypse,' See New Concept Art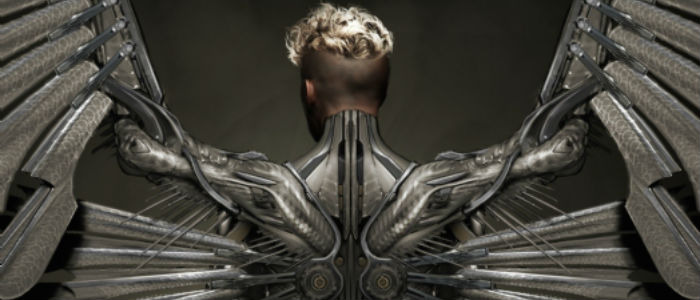 When Eastenders actor Ben Hardy was cast in X-Men Apocalypse, everyone thought he was playing Angel. Bryan Singer even posted concept art of Angel in the movie, but there was no mention of Hardy. Reports denied the actor was playing the winged X-Man, creating some confusion. Now, the director has confirmed Hardy is Angel, and he's even revealed some new concept art to illustrate the character. Check out the X-Men Apocalypse Angel concept art below.
Here's the Angel Concept art from X-Men Apocalypse via Empire.
X-Men Apocalypse Angel Concept Art
Singer dropped a little more information as well. He said the following:
Ben Hardy is Angel – I shall confirm it for you! But he's not a very nice Angel! And that's all I'll say...
That sounds like Angel will at least start the film linked to Apocalypse, played by Oscar Isaac, and this concept art definitely looks like Archangel.
Backstory: In the original X-Men comics, Angel was born with wings and was a core member of the original X-Men team. However, much later, (and this is super over-simplifying the story) the evil Apocalypse gave him metallic wings and turned Angel into a very different sort of character. It's unclear if we'll see the entire evolution of the character or if he'll start as a disciple of Apocalypse. Then there's the question if he'll become an X-Man at the end, or perish in the battle.
I really like this design though. It's very majestic, but also kind of scary. Those are good words to describe Angel too, so I think this is going in the right direction. Plus, it's miles away from what we saw with Ben Foster in X-Men The Last Stand. Great actor, but that was kind of a waste of the character.
X-Men Apocalypse opens May 27, 2016. Written by by Simon Kinberg, Dan Harris, and Michael Dougherty. It'll be directed by Bryan Singer and feature James McAvoy, Jennifer Lawrence, Michael Fassbender, Nicholas Hoult, Evan Peters, Rose Byrne, Sophie Turner, Tye Sheridan, Alexandra Shipp, and Kodi Smit-McPhee. So yeah – it's a massive cast.