POTD: Dr. Ian Malcolm Appears In 'Jurassic World' Marketing Campaign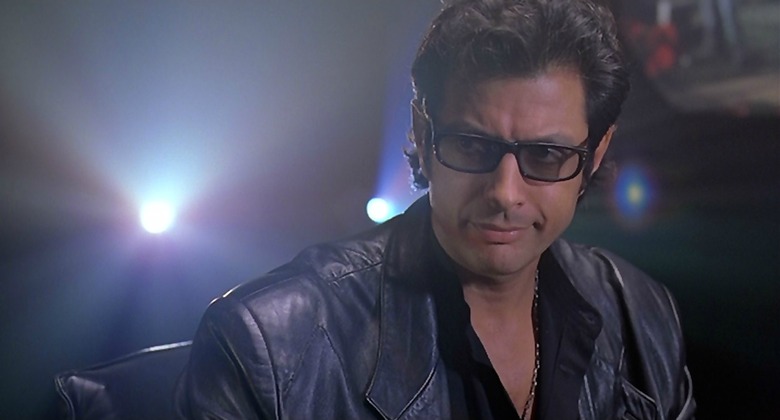 On Easter Sunday, the Jurassic World Twitter account posted an image. Text read "The hunt is on. Happy Easter from Isla Nublar," over a bunch of dinosaur eggs. The eggs had QR codes on them that linked to images from the upcoming film. Most of them we'd already seen, but another was incredibly interesting. This image featured a book called "God Creates Dinosaurs" by one Dr. Ian Malcolm, the character played by Jeff Goldblum in the original Jurassic Park films. See the Jeff Goldblum Jurassic World link and read more below.
Here is the original egg image as well as the "easter egg" reveal of Malcolms's book, via Twitter.
Since probably a decade or so has passed between Jurassic Park III and Jurassic World, it would make sense that Dr. Ian Malcolm would write a book about it. If you remember, at the beginning of The Lost World, we find out that he broke the Non-Disclosure Agreement he signed going to Jurassic Park and was kind of ostracized because of it. He became a target of public ridicule but, after the events later in that film, he was certainly redeemed.
My question is, does "God Creates Dinosaurs" actually appear in Jurassic World and, if so, does it play a role? We know (or at least, we think we know, anything is possible) that Goldblum isn't in the film. Audiences have been lead to believe that BD Wong is the only returning actor/character. It would be incredibly cool if director Colin Trevorrow somehow snuck in a Dr. Ian Malcolm cameo into the film. Maybe even as a post-credits scenes. Universal obviously wants Jurassic World to start a new series of films and bringing back Malcolm would be an awesome way to bring it all together. In all reality though, it's probably just an Easter Egg on a shelf somewhere.
What do you make of the Jeff Goldblum Jurassic World Easter Egg? Will it appear in the movie? Will it be significant in the movie?