'Mallrats 2' Is Kevin Smith's Next Film; He'll Shoot 'Clerks 3' After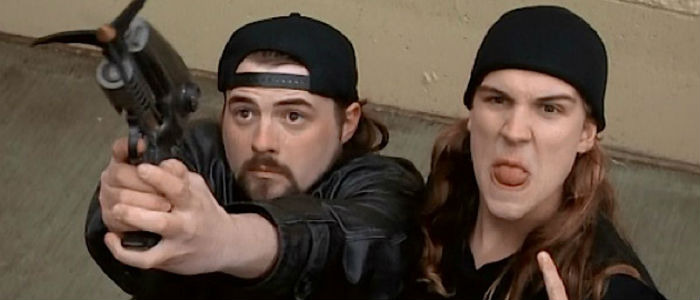 Sometimes logistics force a filmmaker's hand. Originally Kevin Smith was aiming to shoot Mallrats 2 in 2016, after Clerks 3, Hit Somebody, and Moose Jaws. However, Smith and his team found a mall they can shoot in and seriously mess up that won't be around next year. Because of that, he just announced he's going to make Mallrats 2 next. Read more about Mallrats 2, including news on more returning cast members, below.
The news came on the recent episode of Smith's podcast Hollywood Babble-On. Nerd Bastards transcribed it but beware, there's kind of a huge Mallrats 2 spoiler in here. It's a spoiler that's essential to this story though:
We've been putting together Mallrats 2....It's been a real, like Blues Brothers 'We're putting the band back together, on a mission from Smod.' So this week, we had a lot of activity behind the scenes as well and it looks like we might — it's Mallrats and so we require a big old empty mall, and it would be nice if we could do things to the mall. So if you had a mall and the mall was eventually going away, that would let you like blow the f—ing mall up, which happens in the third act.
So we found a place that we can go to and in order to get to that mall before it goes away, we were talking about initially shooting Clerks 3 this summer and then we were going to get to Mallrats in the beginning of 2016. And then it jumped into 2015, where we were going to shoot Clerks and then hopefully Mallrats before the end of the year. But now, based on a f—ing mall that we all dig that will be going away, the priority has become Mallrats. So the next f—ing movie I'm making is Mallrats 2. No word on Batfleck yet...but it would be fun to see if we could get him.
In a few ways, this actually make more sense than the original schedule. Not only the logistics of being able to blow up a mall, but the fact Mallrats 2 has been in the press for the past few weeks and no one is talking about Clerks 3. Clerks 3 also already missed its anniversary release while Mallrats' anniversary is this year. Plus, Clerks 3 is kind of timeless while Mallrats is more modern. Clerks is where Smith's emotional thoughts about life, family and growing up all manifest themselves. That'll work at anytime. Mallrats is kind of a window into the world we live in at the time. Doing that now will be different than two years from now.
Smith has been casting Mallrats 2 over the past few weeks and most of the original cast has agreed to return. We did a round up of it here, but there's since been a few updates. Scott Mosier's character has joined the fray (Smith made that official on his podcast last week and Instagram this week) as well as childhood friends Walt Flanagan & Bryan Johnson. There are now four more people Smith is looking to get back, including Ben Affleck.
I'm very excited by this news. If we had to wait a few more years for Mallrats 2, I probably would have cooled on it. The fact it's happening now just feels right. Like a chocolate covered pretzel.