Animated Marvel Cinematic Universe Project In The Works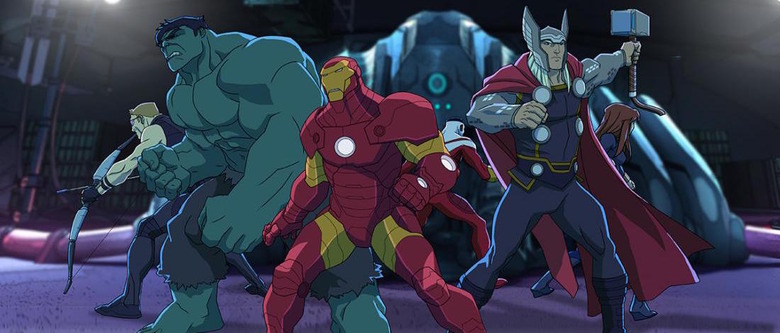 The Marvel Cinematic Universe is already dominating at the box office and kicking ass on the small screen, and this weekend they'll push into streaming with Netflix's Daredevil. Now the next realm they're looking to conquer could be animation.
At a recent event, a Marvel exec revealed that an animated MCU project is in development, though naturally he wouldn't go into too much detail. Hit the jump to read his comments on a possible animated MCU project.
Newsarama picked up the quote from Cort Lane, VP of Animation Development and Production at Marvel Television. During the Marvel Animation panel at Emerald City Comic-Con, a fan asked Lane whether an animated project set in the MCU might be in the cards.
Lane's response was promising: "I can't announce anything, but things are in the works." He did not offer any further details on what "things", but pointed to Daredevil and the other upcoming Netflix shows as a "proof-of-concept" for projects that tie into the MCU.
While Marvel already has several animated series on Disney XD, including the upcoming Guardians of the Galaxy, those shows comprise their own Marvel Universe and don't belong to the same continuity as the MCU. Unless Marvel/Disney is planning to overhaul that entire block, introducing an MCU-set show there would probably just confuse things.
Another intriguing possibility is that Marvel could be looking to create animated One-Shots or shorts to tie into their films. Or going even further, perhaps Marvel is looking to take the MCU direct-to-video. The DTV movies they've put out recently haven't gotten much buzz, but tying future releases to the MCU could change that.
Aside from the question of what the animated MCU project is, there's also the question of whether this expansion is a good idea. On the one hand, Marvel could take advantage of the different demands of animation to experiment with their style and form, or explore some stories are too expensive, too weird, or just too difficult to fit into the live-action MCU.
On the other, the Marvel Cinematic Universe is big enough as it is. It already spans ten films and two TV shows, with another dozen or so films and another four series due out in the next few years. So far it's all clicking, but spread the MCU too thin and it'll be difficult to maintain consistency.
Really, since we don't know what Marvel's specific plans are, it's impossible to judge. But tell us anyway: Would you like to see an MCU animated project? What do you think the studio might have in store?