Star Wars Bits: Mark Hamill, Rogue One Rumor, Celebration Exclusives, Force Awakens Action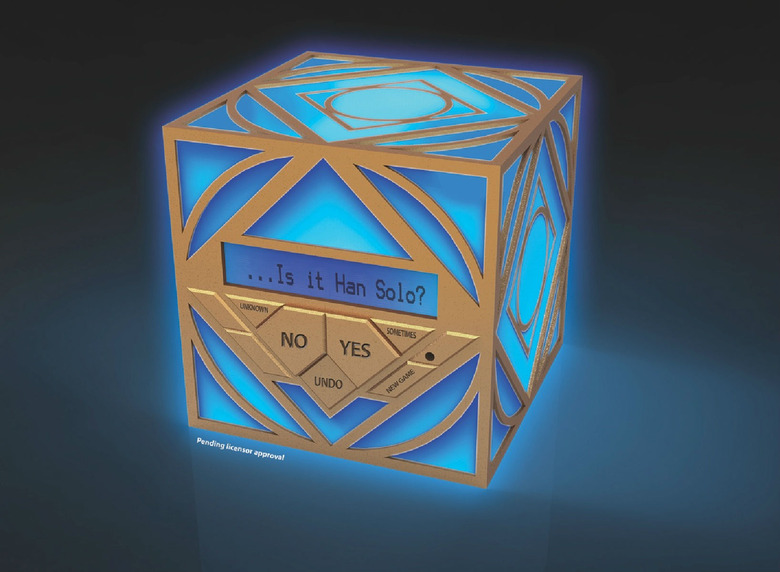 Lots of cool, random info from Celebration to Force Awakens and Rogue One are in this edition of Star Wars Bits. Below, read about the following:
Listen to The Empire Strikes Back and Return of the Jedi radio plays featuring John Lithgow and Ed Asner.
See an image of Mark Hamill from very close to the set of Star Wars: The Force Awakens.
A 7 foot 1 inch tall man rumored for Star Wars: Rogue One.
The guests have been announced for Star Wars Weekends at Walt Disney World.
Watch the top 10 moments in Star Wars Celebration history.
Dark Horse tries to get back at Marvel about Star Wars comics.
An upcoming Journey to The Force Awakens book changed its description.
See Gentle Giant's Star Wars Celebration exclusives.
Help create a Jedi Holocron toy by taking a quiz.
Read about some rumored action scenes in The Force Awakens.
Uproxx found and wrote about an interesting piece of Star Wars history. Apparently, after The Empire Strikes Back came out, there was an official radio broadcast of the story. However, it was expanded and largely recast. Mark Hamill and Anthony Daniels were back but John Lithgow played Yoda and years later, in Return of the Jedi, Ed Asner was Jabba the Hutt. Head to the above link to see and read more but here's just one video:
Mark Hamill/Luke Skywalker's role in Star Wars: The Force Awakens is one of the biggest points of contention between fans. Dozens of theories have been floated in the past few months. One of those theories even has to do with his look. Well, we can put the "look" argument to bed. An image has now made it online (via Making Star Wars) of Hamill with a Naval officer who manned the boat that took him to the island of Skellig Michael. So this is how he looked during shooting of the film. See the image at the link.
A rumored piece of casting for Star Wars: Rogue One has been revealed. Apparently Lydon Sutcliffe, a 7 foot 1 inch tall man, has been cast in the film. If that's true or what the role is, we don't know, but worth noting just in case.
Star Wars Weekends start in May at Walt Disney World in Orlando, FL and the official guest list has finally been revealed. Among the highlights are appearances by Frank Oz (Yoda), Ian McDiarmid (Emperor) and Warwick Davis (Wicket). Read more at Inside the Magic.
With Star Wars Celebration under two weeks away, StarWars.com posted this great video.
This is an odd story. The Hollywood Reporter reports that Dark Horse comics – the former publisher of Star Wars comics before Marvel took over – has offered comic shops a proposition. Send them all left over copies of the Marvel Star Wars #1 and they'll give them an ultra limited edition copy of a new Barb Wire comic. Read more at the link.
Jedi Bibliotech (via MSW) noticed that the description of the book Journey to Star Wars: The Force Awakens: The Weapon of a Jedi: A Luke Skywalker Adventure by Jason Fry changed. It originally said "the story finds Luke Skywalker, C-3PO, and R2-D2 stranded on a mysterious planet, and explores Luke's first-ever duel with a lightsaber." Now it says "the story finds Luke Skywalker, C-3PO, and R2-D2 stranded on a mysterious planet, and explores a dangerous duel between Luke and a strange new villain." Considering this is a Journey title, could that be Kylo Ren?
Gentle Giant revealed their Star Wars Celebration exclusives: A Droids Jumbo C-3PO and General McQuarrie bust. Click on those links for more.
The company Uncle Milton makes science based Star Wars toys and they need our help with the latest one. They want fans to go to this link and take the quiz. It's a 20 questions based game and the more people who take it, the better the eventual product gets. Here's an image of the Jedi Holocron.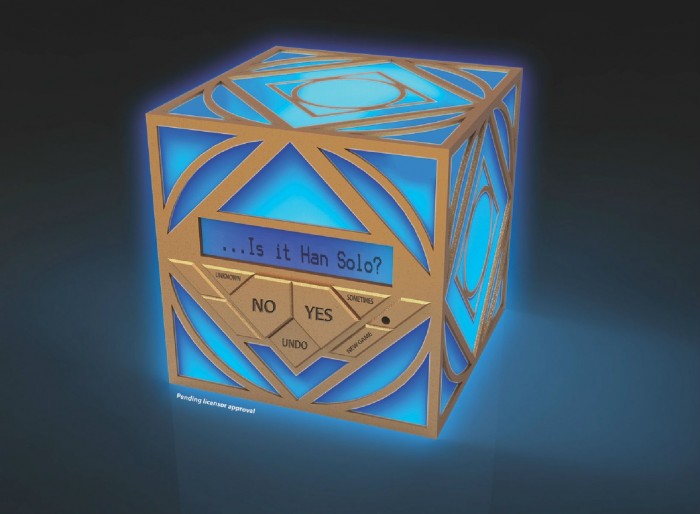 Making Star Wars has an article that details an action scene that might be in Star Wars: The Force Awakens. If true, it's a bit of a mash-up of some action scenes in the original trilogy and sounds very cool. Head to the link for more potential details.The site also has information on a second action scene. This one takes place in space. Again, if true, it's filled with major spoilers but it's an interesting read and very exciting if true.