Drafthouse Films Will Release Excellent SXSW Thriller 'The Invitation'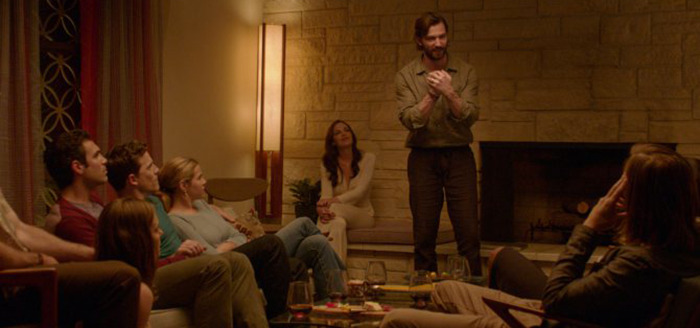 Director Karyn Kusama returns this year with The Invitation, which impressed the hell out of me when it debuted in the Midnight program at the recent SXSW film festival. The film watches as a couple (Logan Marshall-Green and Emayatzy Corinealdi) heads to a dinner party thrown by the guy's former wife and her new partner (Tammy Blanchard and Michiel Huisman), where signs quickly begin to suggest that things are very much off with the hosts. They seem to have been recruited into a cult of some sort, but is their new mindset actually a problem, or just kinda weird?
The Invitation is a gripping thriller with a really ominous tone and a terrific ending. Now Drafthouse Films has picked up the movie for worldwide distribution.Variety reports the pickup by Drafthouse; it's the company's first worldwide distribution deal. The Invitation was written and produced by Phil Hay and Matt Manfredi. We'll pass along a date once Drafthouse announces a release plan.
The Invitation Drafthouse
Here's how Drafthouse described the film in a statement.
The Invitation stars Logan Marshall-Green (Prometheus) as a haunted man attending a dinner party at the house he once called home, who becomes gripped with paranoia that his ex-wife and her new husband are harboring an insidious agenda. Tammy Blanchard (Into The Woods), Michiel Huisman ("Game Of Thrones"), Emayatzy Corinealdi (Middle Of Nowhere) and John Carroll Lynch ("American Horror Story") also star.
"The Invitation has remained under our skin since we first saw it and we're honored that we'll be able to share with audiences everywhere," said Drafthouse COO James Emanuel Shapiro. "Karyn, Phil and Matt have crafted one of the best mysteries we've ever seen."
"I know I speak for our whole team when I say that we could not be more thrilled to be working with Drafthouse Films for the release of The Invitation. Drafthouse is a one-of-a-kind label and an influential arbiter of taste. We love what they do. I'm excited by their passionate enthusiasm for the film and truly honored to be working with them," said Kusama.