Ben Affleck And Matt Damon Producing Syfy Series 'Incorporated'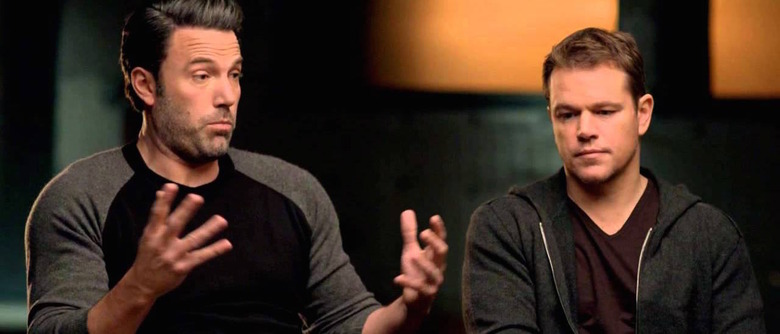 Longtime BFFs Matt Damon and Ben Affleck are preparing to team up again, this time for Syfy. Their latest collaborative effort is Incorporated, a futuristic spy thriller series set up at Syfy. Hit the jump to get all the details on the Syfy Incorporated project from Affleck and Damon.
THR reports Syfy has given a pilot order to Incorporated. Brothers David and Àlex Pastor (Self/less) will write and direct the pilot, and Ted Humphrey (The Good Wife) will serve as showrunner. Affleck and Damon will executive produce through their Pearl Street Films banner, along with Pearl Street president Jennifer Todd. Margaret Chernin, also of Pearl Street, will be an associate producer.
The sci-fi drama unfolds in a future where corporations have unlimited power. At the center of the story is Ben Larson, an executive who takes on a new identity, infiltrates a particularly cutthroat company, and confronts the entire system, all in an effort to save the woman he loves.
The show is described as combining "elements of suspense, action, a dark sense of humor" in its journey through "a world where ethical boundaries have been completely redrawn." Of course, what makes the premise really chilling is how it extrapolates from our current reality. Said Affleck and Damon in a statement:
Incorporated provides us distinct insight into a world dictated by our decisions today. Viewers will delve into the intricacies of our future, one that we are constantly warned of, but as a society have not yet explored. We believe this is an important and timely story to tell and can think of no one better to guide us into this than David, Alex and Ted.
Incorporated is the second scripted TV project in development from Affleck and Damon's Pearl Street. The first is The Middle Man, a drama set up at Fox with Affleck attached to direct once he's done with his Batfleck duties. (They also had a sitcom pilot titled More Time With Family, but it failed to pass muster at CBS.) Additionally, Pearl Street is producing HBO's upcoming revival of Project Greenlight.
Syfy, meanwhile, has several promising pilots coming up including an adaptation of Lev Grossman's The Magicians and the Superman prequel series Krypton.