New 'Insidious Chapter 3' Clip And Poster Unveiled At WonderCon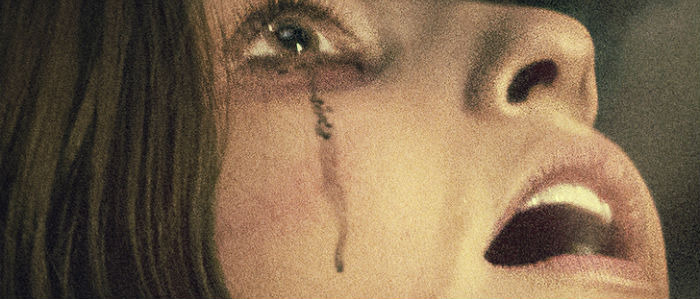 One of the smartest things writer/director Leigh Whannell did with Insidious Chapter 3 is go back in time. In the first film, the awesome character of Elise was killed. In Chapter 2, we see her as a character in the Further, the spiritual limbo the film series centers around. But for Chapter 3, the series goes rewinds the timeline to explain a bit more of how Elise – played by Lin Shaye – because so familiar with the spirit world of the Further.
At WonderCon 2015, Blumhouse premiered a new clip from Insidious Chapter 3 which shows a bit of this origin. We see Quinn (Stefanie Scott) ask Elise to help her contact her dead mother. Anyone who watches horror movies knows, this is a very, very bad idea.
Watch the new Insidious 3 clip below and read about a second, even scarier, clip.
Thanks to Focus Features for the clip.
New Insidious 3 Clip
During the WonderCon Insidious 3 panel, they also showed a second clip after this one. It took place later in the movie.
The second clip showed Quinn in a wheelchair, with a neck brace on, at an elevator. She's pressing the button over and over again. Just then, the evil villain called "The Man Who Can't Breath" is standing there. He's the physical manifestation of Cancer. He spins Quinn's chair around and starts wheeling her away from the elevator. She's terrifed as the speed continues to increase. Quinn screams and the Man shoves her off the chair. Now she's on the floor of an apartment. She looks to the left and sees a figure crawling towards her. This figure looks like Quinn but we see she has no hands. Then we see she has no feet. Then we see she has no eyes or mouth either. She just has a nose. And as this terrifying vision crawls towards Quinn, the clip cuts.
Insidious Chapter 3 opens June 5. Here's a new poster as well.