'Groundhog Day' Musical Coming To Broadway In 2017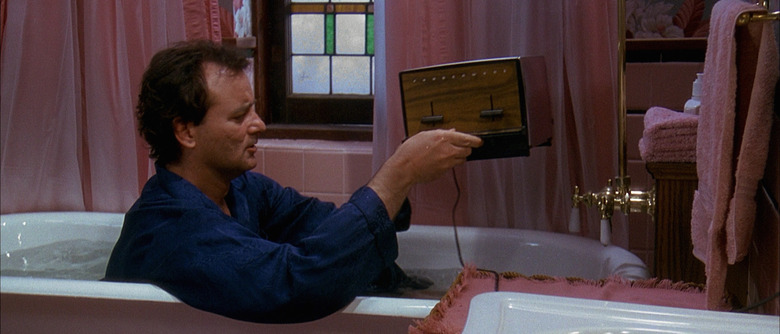 Update: It's official: the Groundhog Day musical will open on Broadway at the August Wilson Theater on April 17th 2017, with a start date for previews announced. Casting has also not been announced but Variety expects Andy Karl to reprise the Bill Murray role which has earned him raves in the UK.
Angie Han's original article from April 3rd 2015 follows:
Much in the same way Phil Connors relives February 2 over and over again, we may be able to relive Groundhog Day all over again in the not-too-distant future. A Groundhog Day musical is officially in the works, with plans to hit Broadway in 2017. Get all the latest on the Groundhog Day musical after the jump.
According to THR, the Groundhog Day musical will begin previews January 23, 2017, with an official opening set for March 9, 2017.
The Groundhog Day musical reunites much of the same team that turned the Roald Dahl tale Matilda into a Broadway and West End hit, including director Matthew Warchus, composer-lyricist Tim Minchin, choreographer Peter Darling, and set and costume designer Rob Howell. Danny Rubin, who scripted the original Groundhog Day movie with Harold Ramis, is writing the book for the musical.
The stage show will follow the same basic plot as the movie. Phil Connors (played by Bill Murray in the film) is a cranky TV weatherman who's none too happy about traveling from Pittsburgh to Punxsutawney to cover the annual Groundhog Day event. A blizzard forces him to stay in the town overnight. When he wakes up, he discovers that he's stuck in a time loop that has him reliving February 2 over and over again.
A Groundhog Day musical has been in the works for years, in various forms. We first heard about this particular iteration of the project last year. Before that, James Lapine and Stephen Sondheim were rumored for the project. Rubin has been on board since at least 2009.
Whistle Pig Productions, Columbia Live Stage, and Scott Rudin are producing the Groundhog Day stage show. Casting and theater details have not yet been confirmed. THR speculates, however, that the Groundhog Day musical could make its world premiere at London's Old Vic Theatre, as Warchus is set to take over as its artistic director this fall.