'House Of Cards' Season 4 Set For 2016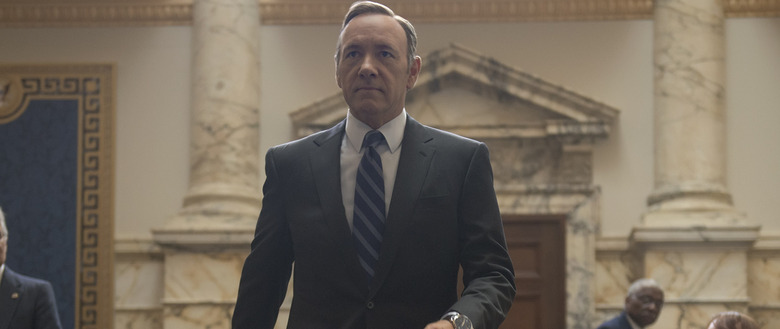 Frank Underwood isn't done yet. Kevin Spacey will return to Washington, DC. for a fourth season of the Netflix series House of Cards. That turns the series into a longer-running show than the UK original, and also tells you that Frank Underwood is still kicking by the end of season three. Beyond that, we don't know what to expect. What we do know about the House of Cards S4 renewal is below.
We were alerted to the return of the show via a tweet, and a statement that is ominous as a bit of Frank Underwood dialogue.
I will leave a legacy. #Underwood2016 pic.twitter.com/lEC49fd7X1

— House of Cards (@HouseofCards) April 2, 2015
We can probably expect the show's fourth season to arrive in February, which will also drop it right into the heated primary season of the US Presidential race. (The Republican and Democrat party conventions will finalize their nominees in July.)
Those who've watched the show's third season, which premiered on Netflix this past February, will have some idea of the returning cast, but we won't spoil anything specific for those who've been holding off on the new season. Netflix says the fourth season will shoot in Baltimore starting this summer, so we'll likely get a lot more info on any new cast members as we get into the warmer months.