Netflix Eyes 'Full House' Sequel Series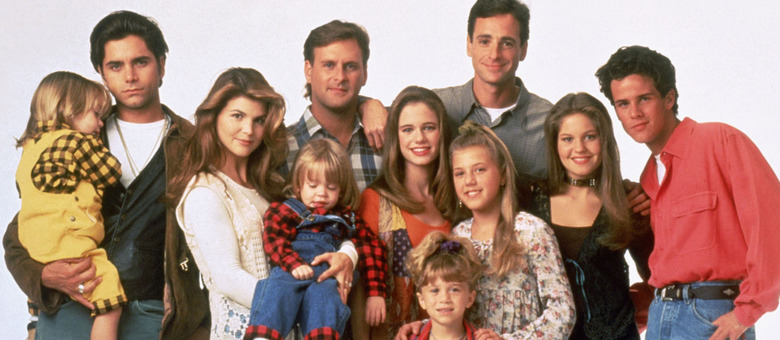 Netflix was responsible for reviving Arrested Development and The Killing, and it gave us new versions of Richie Rich and Inspector Gadget. Now it could resurrect yet another old show: Full House.
The streaming service is reportedly nearing a deal for Fuller House, a continuation of the ABC comedy which ran for 8 seasons from 1987 through 1995. Much of the original cast and producers will return, including John Stamos. Get all the details on the Full House Netflix revival after the jump. 
According to sources who spoke with TVLine, Netflix is "this close" to a 13-episode order for Fuller House. The new series is envisioned as a multi-cam comedy centering on D.J. Tanner (Candace Cameron Bure) and her best gal pal Kimmy Gibbler (Andrea Barber).
As of last summer we heard Jodie Sweetin (a.k.a. Stephanie) was also on board, but she isn't mentioned in the latest reports. Maybe it's just an oversight. Original cast members Stamos, Bob Saget, and Dave Coulier are all eyed for guest appearances. Fingers crossed certain other actors will also find time in their busy fashion-designing schedules to stop by as well.
Stamos, who's been the loudest champion of a Full House resurrection, will additionally serve as producer. Full House creator Jeff Franklin will executive produce Fuller House, alongside Full House executive producers Thomas L. Miller and Robert L. Boyett.
Stamos and others have been working on a Full House sequel, in some form or other, for some time now. He told press he was working on a Full House movie all the way back in 2009. (At the time, Peter deemed it the "worst idea ever.") But the talk has picked up steam over the past year. Stamos teased "a twist on a sequel" after reuniting with Saget and Coulier for a 2014 Super Bowl commercial for Oikos Yogurt.
Full House is the latest of many, many, many, many, many classic shows making a comeback. The appeal is obvious. These shows were hits back in the day, and the new versions can theoretically play on the nostalgia longtime fans have for the original, while attracting a whole new fanbase.
But real talk, guys: Full House was not a great show. Sure, it was fun when we were kids, and yes, it's still cute when they reunite for karaoke. But have you seen the actual show lately? It hasn't aged well at all — it's cloying and cheesy. Let's just hope Fuller House is a little better, or at least a little more modern-feeling.
Are you excited for the Full House Netflix series? Am I off base with my Full House criticisms? Or do you wish TV would just let some '90s shows stay in the '90s?