Alexander Payne Considers Betting On 'Septillion To One'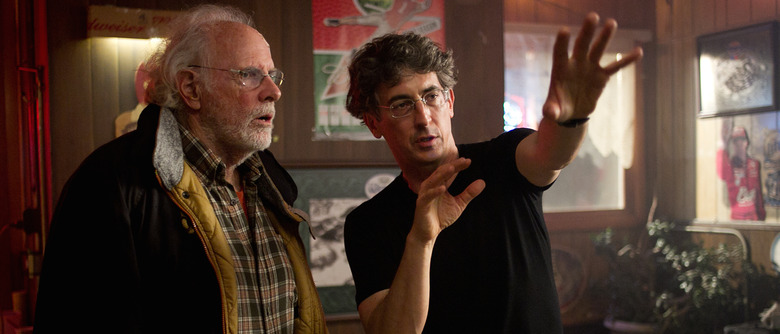 Alexander Payne is still working on getting the pieces together for Downsizing, but he may already have his eye on another new project. He's reportedly circling Septillion to One, based on the true story of four-time(!) lottery winner Joan Ginther. The romantic comedy is described in encouraging terms as "Silver Linings Playbook meets Ocean's 11."
More on the possible Alexander Payne Septillion to One movie after the jump. 
TheWrap reports OddLot Entertainment won the spec script by Adam R. Perlman (The Newsroom) and Graham Sack in a heated auction. Ginther won the lottery four times between 1993 and 2010, collecting a total of about $20 million. But it wasn't sheer luck. Among other things, she put her statistics Ph.D. from Stanford University to good use.Septillion to One centers on a former FBI agent who now works for the fraud department of the Texas State Lottery. Ginther's multiple wins attract his attention, and he enters into a cat-and-mouse game with this mysterious, beautiful woman before ultimately falling in love with her.Tom McNulty (The Spectacular Now) will produce through MC2, along with Linda McDonough of Marquee Entertainment and Gigi Pritzker of OddLot. Said Pritzker, "This is a smart script, based on a true story out of Texas, has commercial viability with a slew of A-list talent and directors already interested."
Payne's involvement in Septillion to One is far from certain. Though he's interested, he's currently attached to direct Downsizing, which has been brewing for years and now has Matt Damon and Reese Witherspoon on board to star. OddLot, meanwhile, wants to fast-track Septillion to One since it doesn't have much else coming up.
The director is coming off of Nebraska, which was nominated for six Oscars including Best Picture and Best Director.
To read about the true story of Joan Ginther, and to find out how she did it, check out this fascinating Philly.com series from 2014.