Mark Wahlberg To Lead Boston Marathon Bombing Movie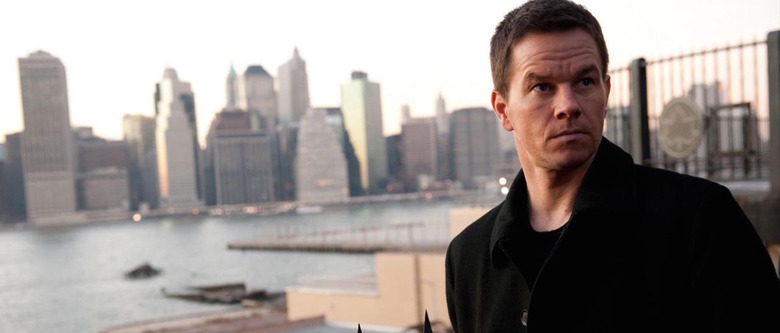 With one Boston Marathon bombing movie already in development, a second, competing project has just entered the picture. CBS Films has announced plans to make Patriot's Day, with Boston native Mark Wahlberg likely to star as city police commissioner Ed Davis. Get all the info on the Mark Wahlberg Boston Marathon movie after the jump. 
Matt Charman is scripting Patriot's Day, and Wahlberg will produce along with Scott Stuber, Dylan Clark, Stephen Levinson, and Michael Radutzky. Based on Davis' firsthand account, the film is described as an "intense thriller" covering the five-day manhunt for the Tsarnaev brothers.
In a press release (via HitFix), CBS described Davis' role in the event as follows:
Commissioner Davis played an integral role in working with the FBI, Watertown Police Department, Boston Police Department, Massachusetts State Police and local first responders to track, identify and apprehend the suspected bombers. Their tactics included the use of sophisticated identity technology and giving the historic order to put the city of Boston under lockdown as they rushed to apprehend the suspects.
Added CBS Films president Terry Press:
There is nothing more compelling than a real story populated by real heroes. The team that we have assembled for this project is determined to give audiences a very personal look at what occurred during the days when the eyes of the world were on the city of Boston and how a group of contemporary patriots faced this crisis.
Patriot's Day will be racing to theaters against Boston Strong, Fox's competing project which has Daniel Espinosa on board to helm. Patriot's Day should be naming its own director soon as both movies are angling to shoot this year.
Charman recently wrote the script for Bridge of Spies, Steven Spielberg's upcoming Cold War thriller. His other credits include the BBC drama Our Zoo and the World War II romance Suite Française.
Wahlberg is coming off of The Gambler remake. He has Entourage and Ted 2 due out this summer, and is currently shooting Daddy's Home with his The Other Guys co-star Will Ferrell.