Clint Eastwood Circling Leonardo DiCaprio's Richard Jewell Project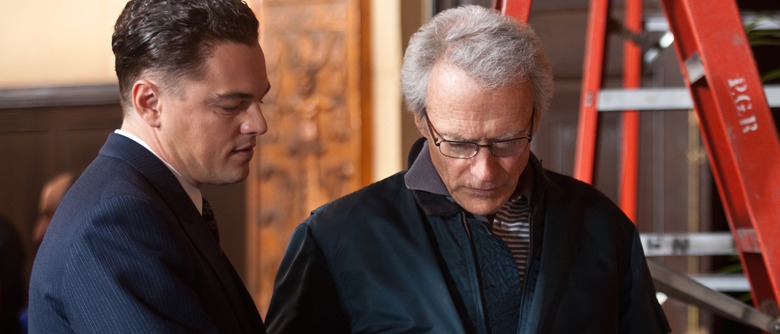 Clint Eastwood may follow up American Sniper with another dose of real-life drama. He's circling The Ballad of Richard Jewell, Leonardo DiCaprio and Jonah Hill's movie about the 1996 Atlanta Olympics bombing. Billy Ray wrote the script based on a 1997 Vanity Fair article by Marie Brenner.
Learn all about the possible Clint Eastwood Richard Jewell movie after the jump. 
Deadline broke the news. Although Eastwood sounds very interested, he has a few hurdles to clear first. The main issue is his loyalty to Warner Bros., as the Richard Jewell movie is already set up at Fox. The two studios may wind up working out a deal to co-produce the movie.
Hill is set to play Jewell, the Atlanta Olympics security guard who spotted a suspicious backpack that turned out to contain a bomb. He minimized the damage and saved countless bystanders with his quick thinking and brave actions, and was initially hailed in the press as a hero.
However, after word spread that Jewell was a suspect, the media quickly turned on him. He was vilified and mocked, and generally portrayed as a loser who'd planted the explosives to make himself look good. The accusations turned out to be completely false, but by the time the FBI fully cleared Jewell three months later his life was already in tatters.
DiCaprio is looking to play Jewell's lawyer. His usual specialty is real estate law, but he makes an exception for Jewell, a casual acquaintance. He guides Jewell through the ordeal, even though he soon realizes he's in over his head.
The two actors joined the project in early 2014, when they were fresh off of starring together in The Wolf of Wall Street and looking to work together again. It's been moving along at a steady clip since then, setting Ray to script just a few weeks later. Paul Greengrass was eyeing the film last fall, but the talk about Eastwood confirms he's since fallen away.
While The Ballad of Richard Jewell already has some serious pedigree behind it, Eastwood's involvement would give it an extra boost. He's currently riding high thanks to the surprise smash success of American Sniper, and hasn't yet confirmed his next project. Eastwood and DiCaprio last teamed up on J. Edgar.
In addition to starring, DiCaprio will produce through Appian Way alongside Jennifer Davisson Killoran. Hill, Kevin Misher, and Andy Berman will produce as well.
No start date or release date has been announced. But look for this one to move quickly, especially if the famously efficient Eastwood climbs aboard.