Cool Stuff: Amity Island Is Open And Closed In New 'Jaws' Poster By Ape Meets Girl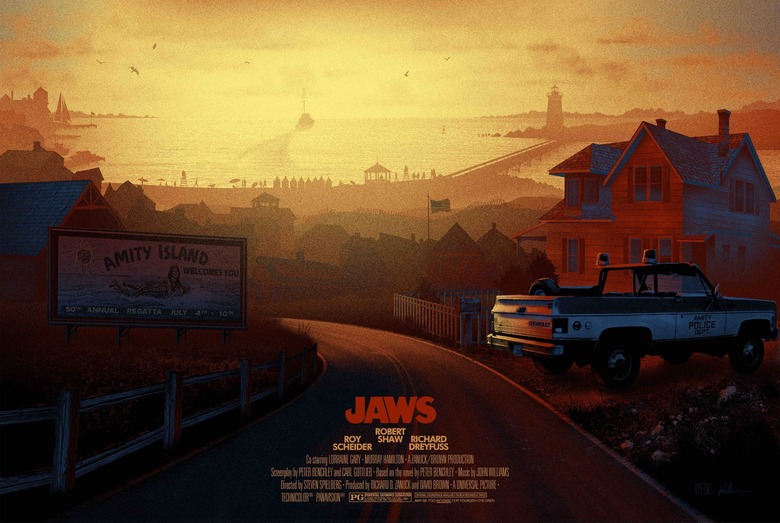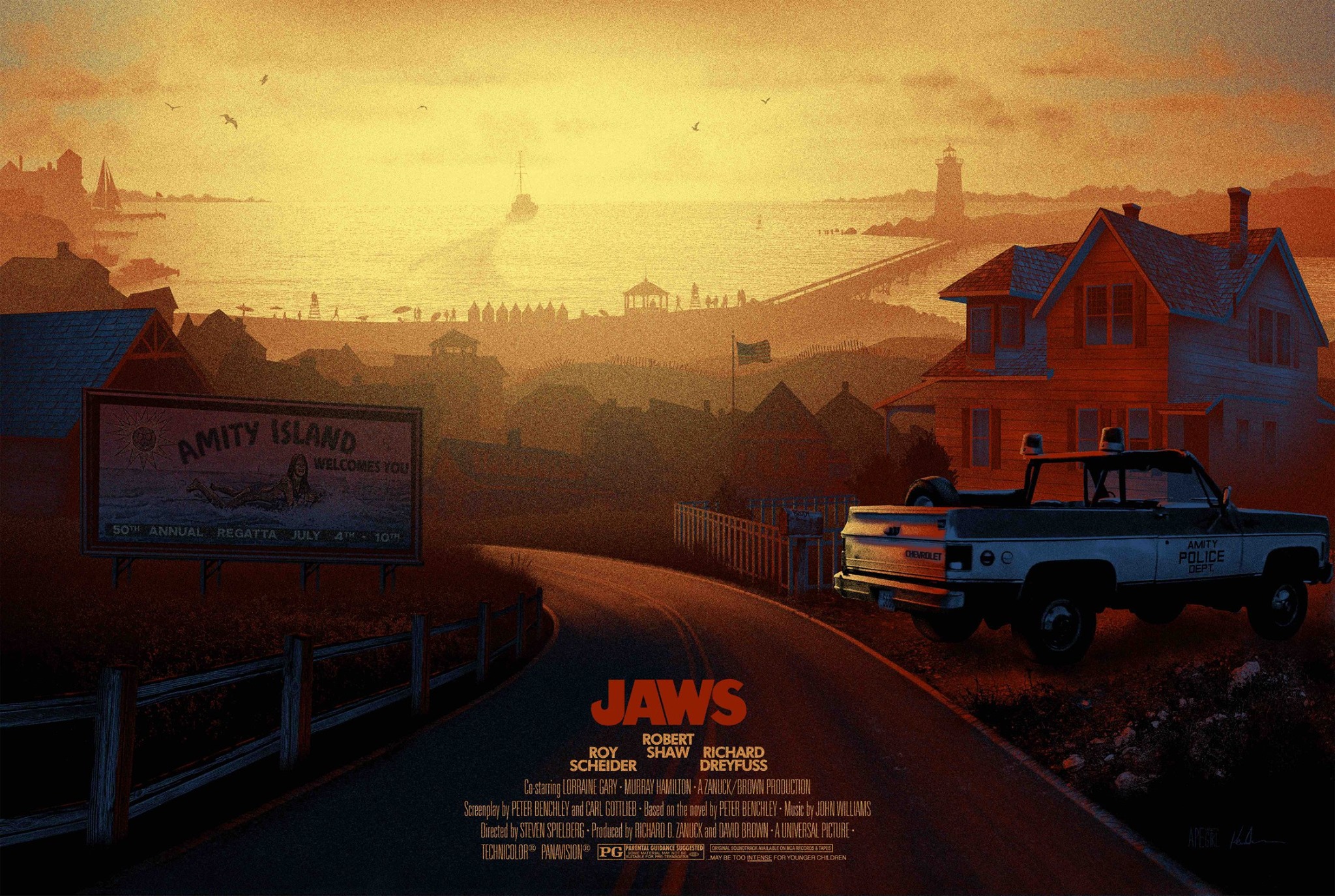 There's no arguing Steven Spielberg's Jaws is a masterpiece. An infinitely rewatchable thriller that's quotable, entertaining and influential. One of the many places you see that influence today is the pop culture art world. Jaws is regularly one of the most reimagined properties out there. There have been full art shows dedicated to the film as well as innumerable one off pieces here and there. And with each subsequent poster released, the artists seem to be inspired to top one another.
Which leads us to the latest Jaws print by Kevin M. Wilson aka Ape Meets Girl. He took the intense film and boiled it down into a serene landscape showing Amity Island in its before, and after, settings. See the full Ape Meets Girl Jaws posters below.
Here are Amity Island: Beach Open and Amity Island: Beach Closed by Ape Meets Girl:
The yellow "Beach Open" version is the regular edition and black "Beach Closed" is the variant. They're both 36 x 24 inch screenprints in editions of 100 and 75 respectively. Each is part of a private commission and info can be found on the Ape Meets Girl Facebook page.
I could spend all day clicking back and forth between the regular and variant editions, looking at all the subtle changes made between the two. Really beautiful stuff.
Here's a bit of info on the print from the Facebook page where the print was commissioned.
I think you'll all agree Kevin has knocked these out of the park (or sea) to show a very different side of Amity that has yet been seen in print form. The key focus was the town of Amity and to reference the sign in a way that it welcomes you into the town before and after the shark attack. The prints are full of film references and easter eggs from the Reservoir that Police Chief Brody sends his son to play in, to his house (and letter box), the broken fence to the detail on the beach and buoy in the sea and not forgetting the sign. There may also be an appearance from Jaws himself in one form or another for those who are eagle eyed...there's more than one shark reference.
I hope you all like it as much as myself and Kevin do, he's a huge fan of Jaws and I think it's safe to say it shows!
Again, for more information visit this Facebook page.