'Suicide Squad' Adds Scott Eastwood And Raymond Olubowale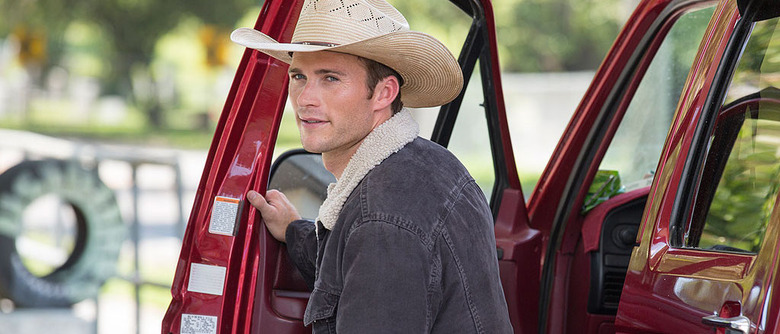 While the main cast of Warner Bros. / DC's Suicide Squad has been set for weeks, director David Ayer still has a few supporting roles left to fill. The latest additions are Scott Eastwood (yep, as in son of Clint) and boxer Raymond Olubowale. More on the latest Suicide Squad casting after the jump. 
Word about Olubowale comes from the Toronto Sun (via SuperHeroHype), while eTalk broke the news about Eastwood. Neither of their roles have been revealed, though Latino Review has heard Olubowale could be playing King Shark. Screen Rant additionally points out that the muscular, 6'7" Olubowale is about the right build to play Blockbuster, who was rumored for the movie some months ago.
Speaking to the Sun, Olubowale gushed about his burgeoning acting career. "It's fantastic, genuinely fantastic," he said. "It's an opportunity to never grow up. You're just one big kid playing make-believe and you're compensated well."
His comments about being typecast may offer a tiny clue about the type of character he might play in Suicide Squad. "The reality is, I'm a big guy. And they're going to cast me as such," he said, speaking generally. "I'm just grateful for the opportunity to do this, just to be in the acting world."
As for Eastwood, he's already been in Toronto working on Suicide Squad. The new project marks Eastwood's second time working with Ayer, as he had a minor role in the World War II tank drama Fury.
Olubowale and Eastwood join a sprawling, star-studded cast that also includes Will Smith as Deadshot, Joel Kinnaman as Rick Flag, Margot Robbie as Harley Quinn, Jai Courtney as Captain Boomerang, Cara Delevingne as Enchantress, Jared Leto as the Joker, and Viola Davis as Amanda Waller.
Also on board is Jay Hernandez in a mystery role. Jesse Eisenberg and Ben Affleck are rumored to return as Lex Luthor and Batman, respectively, and Jackie Earle Haley is rumored to be up for the part of the Thinker.
Though he's best known as a professional boxer, Olubowale has a few screen credits already under his belt. Most notably, he played Axeman in the last two Resident Evil movies. He also recently wrapped a role as a Navy SEAL in the Adam Sandler comedy Pixels, coming this summer.
Eastwood made his acting debut in 2006's Flags of Our Fathers, directed by his own father. He next stars in the Nicholas Sparks adaptation The Longest Ride with Tomorrowland actress Britt Robertson.
Suicide Squad lands August 5, 2016. Who wants to guess whom Olubowale and Eastwood are playing?