'Game Of Thrones' Star Maisie Williams To Guest On 'Doctor Who'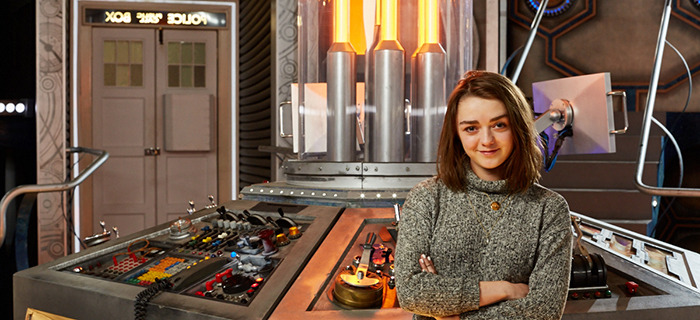 We don't know if Maisie Williams will end up doing the film adaptation of The Last of Us, but she has shot a role that will let fans of her Game of Thrones character see the actress in a new light. Williams is now on set for Doctor Who, shooting a guest role that will be part of the show's next season, which debuts this fall. We don't have a lot of info on the Maisie Williams Doctor Who appearance, but what we do have is below.
In a press release, the show's writer and exec producer Steven Moffat declined to give any real details:
We're thrilled to have Maisie Williams joining us on Doctor Who. It's not possible to say too much about who or what she's playing, but she is going to challenge the Doctor in very unexpected ways. This time he might just be out of his depth, and we know Maisie is going to give him exactly the right sort of hell.
The BBC did provide some other info on the new episodes, however. These may or may not be episodes featuring Williams, but they .
Bursting with drama, wit and heart, the show continues filming with two period adventures – 'The Girl Who Died' written by Jamie Mathieson and Steven Moffat, and 'The Woman Who Lived' by Catherine Tregenna. Starring Peter Capaldi (The Doctor) and Jenna Coleman (Clara Oswald), the duo continue to time travel through epic adventures directed by Ed Bazalgette (Poldark). Comedian and actor Rufus Hound (Cucumber) also joins the guest cast alongside Tom Stourton, Ariyon Bakare, Simon Lipkin, Ian Conningham, Murray McArthur, Barnaby Kay, John Voce, and Struan Rodger. The BBC Cymru Wales produced drama will return to BBC AMERICA this fall, with further casting to be announced in due course.
In addition, the BBC provided a pair of photos of Williams' happy first day on set.