Hugh Jackman Will Play Wolverine "One Last Time": Is This An End Of An Era? [UPDATED]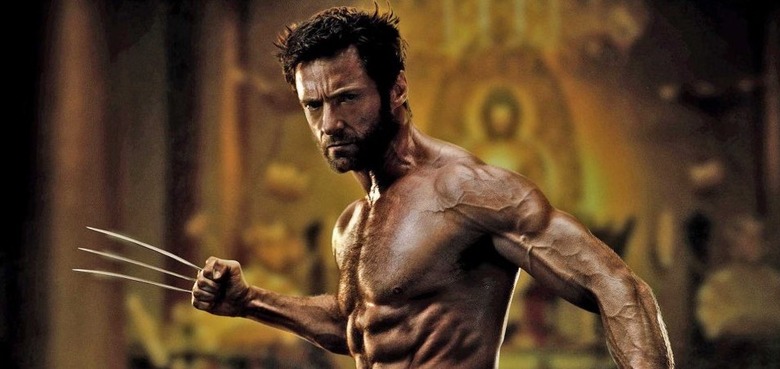 Hugh Jackman may be taking his claws off for good. A new Instagram from the X-Men franchise actor on Saturday says that he will be playing Wolverine for "one last time." Details after the jump.UPDATE: Director James Mangold has confirmed that Jackman's "one last time" as the character will be in the upcoming sequel to The Wolverine. Fox has that film slated for March 3, 2017.
"@RealHughJackman: WOLVERINE ...ONE LAST TIME. HJ https://t.co/vlqMyFchGx" Can't wait to make this, HJ! Been toiling quietly a while now!

— Mangold (@mang0ld) March 29, 2015
On his instagram account, Hugh Jackman posted a photo of him putting on the signature Wolverine claws with the caption "WOLVERINE ...ONE LAST TIME". See screenshot below: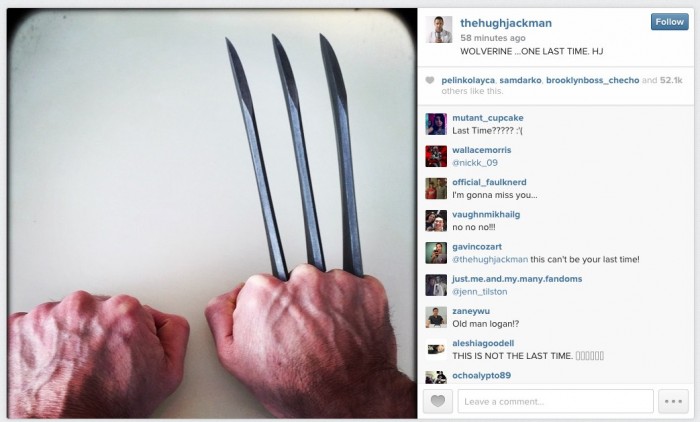 Jackman was never confirmed for the upcoming X-Men: Days of Future Past sequel X-Men: Apocalypse, which is set for a May 27th 2016 release featuring James McAvoy, Michael Fassbender, Jennifer Lawrence, Sophie Turner, Tye Sheridan and Alexandra Shipp. So we must assume this means that Jackman will be reprising the role for a final time in the upcoming announced sequel to The Wolverine. 20th Century Fox has slated the untitled Wolverine sequel for March 3rd 2017.
Jackman has appeared as Wolverine in seven X-Men films since 2000 (this counts the one-scene cameo in 2011's X-Men: First Class). This posting seems strange as the actor was quoted in February saying he wants to play the mutant superhero until he dies:
I said to my wife, 'The moral is that I should never stop playing Wolverine. I've got to find a way to keep playing him until I die.' I know that someday they'll recast the role with another actor...I'd be happy if the role was eventually recast. It would mean that it had become iconic.
What do you think of this latest instagram? Will this be the Hugh Jackman Wolverine ending fans deserve? Or is this a play for contract negotiations with Fox? It's also possible that Fox has revealed plans to Jackman to recast the role with a new actor. And if Jackman never puts on the claws again, this would mean that we will never see him alongside The Avengers in a Marvel Studios crossover that fans have been begging for (to be fair, the studio logistics made this very unlikely to ever happen but more promising now that Spider-Man is swinging his way into the Marvel Cinematic Universe).