Vincent D'Onofrio Is The Bad Guy In Antoine Fuqua's 'Magnificent Seven'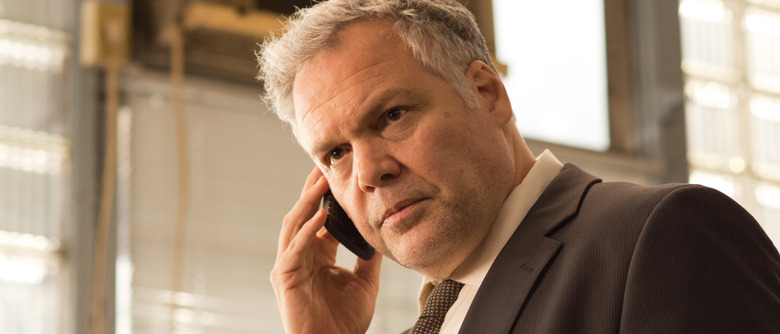 Vincent D'Onofrio used to be known for playing a good-guy cop on Law & Order: Criminal Intent, but these days he seems to be relishing the bad-guy roles. He's just signed on to play the villain in Antoine Fuqua's The Magnificent Seven.
He'll be up against a formidable team that includes Denzel Washington, Chris Pratt, and Ethan Hawke. Haley Bennett also stars, as a character who sets the entire plot in motion. Get all the details on the Vincent DOnofrio Magnificent Seven casting after the jump. 
Variety reports D'Onofrio is currently in talks for The Magnificent Seven. The Sony / MGM project is based on the 1960 Western of the same title directed by John Sturges and Yul Brynner. The "original" was itself a remake, of Akira Kurosawa's 1954 film Seven Samurai.
The new Magnificent Seven was scripted by Nic Pizzolatto (True Detective) with rewrites by John Lee Hancock (The Blind Side). It's been development for a few years already but picked up steam last fall when Fuqua was confirmed to direct.
Set shortly after the Civil War, it centers on a small town threatened by a gold mining baron and his thugs. The widow (Bennett) of one of their victims hires a bounty hunter (Washington) to drive out the bad guys. He rounds up six more gunmen to help out.
D'Onofrio is coming off of the Liam Neeson thriller Run All Night. He'll next be seen in Netflix's Dardevil, in which he plays classic Marvel supervillain Wilson Fisk (a.k.a. the Kingpin). Then he has another antagonistic role coming up in Jurassic World.
Production on The Magnificent Seven is expected to begin in the next month or so, which means we should be in for several more casting announcements in the coming weeks. The Magnificent Seven does not yet have a release date.