'Southpaw' Trailer: Jake Gyllenhaal Fights For His Life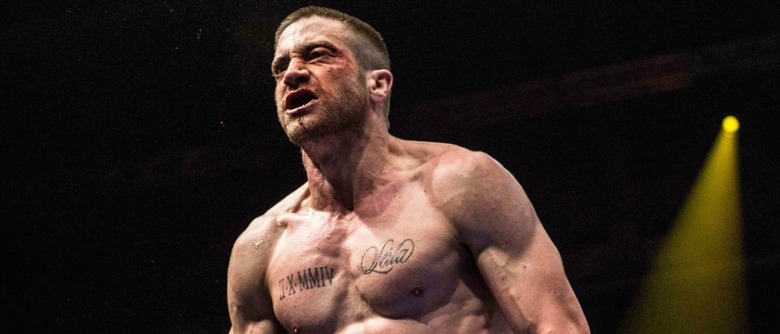 Jake Gyllenhaal has had a really excellent run over these past few years, culminating in a career-best performance with Nightcrawler. But it's not over. He seems poised to continue his winning streak with Southpaw, if the first trailer is any indication.
Directed by Antoine Fuqua and written by Kurt Sutter, Southpaw stars Gyllenhaal as a boxer who's lost everything — up to and including his daughter, who's been taken away by Child Services. He begins the painful process of putting his life back together the only way he knows how, by re-entering the ring.
Rachel McAdams plays his beautiful wife, Forest Whitaker his strict coach, and Oona Laurence his cute kid. Check out the Southpaw trailer after the jump.
The first Southpaw trailer debuted on Eminem's YouTube page. Interestingly, the rapper was eyed to lead this film once upon a time. It didn't work out, but it seems he still got to contribute in the form of a song.
Gyllenhaal is pulling the full Christian Bale here. His beefed-up body is a massive turnaround from the perpetually hungry, rail-thin look he had in Nightcrawler. But his performance goes beyond mere physical transformation. Gyllenhaal has established himself as one of the finest actors of his generation, and we can't wait to see him sink his teeth into the meaty drama in Southpaw.
Southpaw opens July 31.
From acclaimed director Antoine Fuqua (TRAINING DAY) and starring Academy Award® nominated Jake Gyllenhaal (NIGHTCRAWLER, BROKEBACK MOUNTAIN) comes a story of tragedy, loss and the painful road to redemption... Billy "The Great" Hope (Gyllenhaal) is the reigning Junior Middleweight Champion whose unorthodox stance, the so-called "Southpaw," consists of an ineloquent, though brutal, display of offensive fighting... one fueled by his own feelings of inadequacy and a desperate need for love, money and fame. With a beautiful family, home and financial security, Billy is on top both in and out of the ring until a tragic accident leaves his wife dead and sends him into a downward spiral. His days now an endless haze of alcohol and prescription drugs, his daughter taken by Child Services and his home repossessed by the bank, Billy's fate is all but sealed until a washed up former boxer named Tick agrees to take the bereaved pugilist under his wing so long as he agrees to his strict ethos. Relentless and utterly committed to a fighter that thinks as much as he throws punches, Tick rebuilds Billy into a new man: one that is agile, fearsome and uncompromising in the ring while thoughtful, loving and disciplined outside of it. Now, as he works to regain custody of his daughter and mounts a professional comeback, Billy must face his demons head-on as he learns that, sometimes, your greatest opponent can be yourself.