Sequel Bits: 'Furious 7', 'Star Trek 3', 'Independence Day 2', 'Mallrats 2', 'Zoolander 2'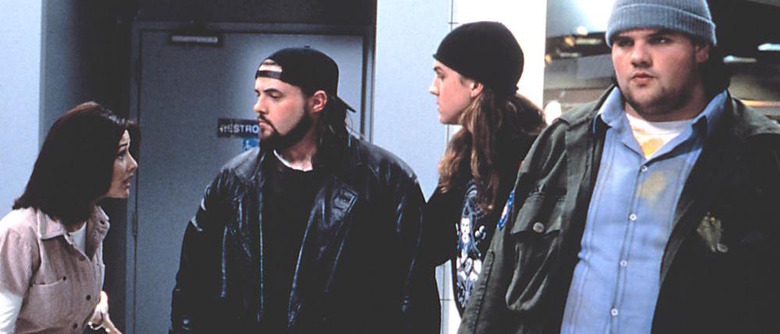 Some new pics, some casting, and some very interesting quotes in this edition of Sequel Bits. After the jump:
Ethan Suplee is also back for Mallrats 2
Alvin and the Chipmunks 4 books Bella Thorne
Sam Jones says he's already set for Ted 3
Sharknado 3 will be "the worst," says the Hoff
See Zoolander and Hansel model for Valentino
Vin Diesel predicts Best Picture for Furious 7
There will be a gay couple in Independence Day 2
James Wan is getting to work on The Conjuring 2
Simon Pegg is "terrified" to write Star Trek 3
Mallrats 2 continues to fill up with the recent addition of Ethan Suplee. Director Kevin Smith announced the news on Instagram this week.
Willam still can't see that damned sailboat! Skinny-boy ETHAN SUPLEE is going back to MALL, ya'll! 7 down, 5 to go! #MR2
Suplee joins original Mallrats co-stars Jason Lee, Shannon Doherty, Michael Rooker, Stan Lee, and Jason Mewes. (Smith will also reprise his role as Silent Bob.) Not yet confirmed to return are Claire Forlani, Jeremy London, Joey Lauren Adams, Ben Affleck, and Renée Humphrey. [Instagram]
Bella Thorne has climbed aboard Alvin and the Chipmunks: The Road Chip. The upcoming sequel sees the critters striking out for New York City based on the misunderstanding that Dave (Jason Lee) means to dump them after proposing to his new girlfriend.
Thorne joins Tony Hale and Kimberly Williams-Paisley as well as returning stars Justin Long (Alvin), Matthew Gray Gubler (Simon), and Jesse McCartney (Theodore). Alvin and the Chipmunks: The Road Chip opens December 23. Walt Becker is directing. [Deadline]
Ted 2 hasn't even opened yet, but it seems Universal may already planning ahead for the next one. Sam Jones (a.k.a. Flash Gordon) reveals he's already set to reprise his role. "I just signed on for Ted 3. We're moving onwards and upwards, it's wonderful." He later clarified, "We haven't filmed Ted 3 yet."
Jones had a small role as a fictionalized version of himself in the first Ted. He reprises the role for Ted 2 due out June 26. According to him, "it's funny, if not funnier" than its predecessor. [ComicBook.com]
Normally, actors are tripping over themselves to declare how good their next film is gonna be. But David Hasselhoff knows you're not tuning into Sharknado 3: Oh Hell No! to see a good movie. "You know, it's the worst movie you have ever seen," he promised. "Everybody's in on the joke, and it is so much fun."
Hasselhoff plays Gilbert, father to Fin (Ian Ziering). "I came in and played him very real," he recalled. But not too real: "The last shot of me is me on top of the moon [saluting]." And if all goes well, the Hoff says, he could be back for Sharknado 4. Sharknado 3 premieres July 22 on Syfy. [THR]
***
Click on ahead to see Zoolander and Hansel in action, read Simon Pegg's plans for Star Trek 3, and assess Vin Diesel's Furious 7 Oscar hopes.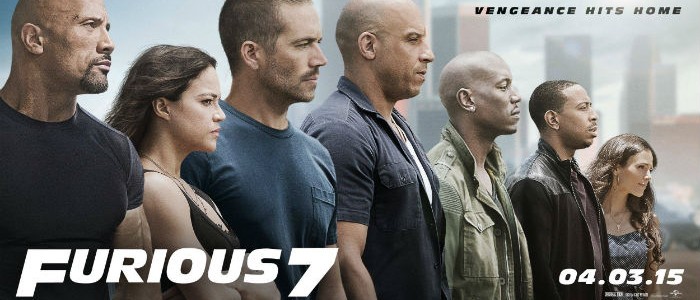 Fantasy and reality blurred at this year's Paris Fashion Week as fictional models Derek Zoolander (Ben Stiller) and Hansel (Owen Wilson) walked the runway and completed a photoshoot for real-life fashion house Valentino. See the results from the latter, courtesy of Valentino, below.
At a separate press event, Stiller explained how Zoolander 2 finally came together after years of rumor:
Last year, we started looking at it again and it seemed like the confluence of events of everybody wanting to do do it, and it got to a point where it actually came together. And it's exciting to finally be able to talk about it, too.
Directed by Justin Theroux, Zoolander 2 is scheduled to open February 12, 2016. [THR / Coming Soon]
Furious 7 may go where no other Fast & Furious movie has gone before: to the Best Picture Oscar race. At least, that's what Vin Diesel believes. "Universal is going to have the biggest movie in history with this movie," he said. "It will probably win best picture at the Oscars, unless the Oscars don't want to be relevant ever."
The obvious rebuttal is that the Oscars don't really seem to want to be relevant — at least, not in that way. As an action-packed, big-budget studio sequel, Furious 7 is exactly the kind of movie that gets overlooked come awards season. Just ask people if they remember the Dark Knight debacle of 2009.
Somewhat likelier than a Best Picture win, however, is a special effects nod. Furious 7 famously took a hit when star Paul Walker died halfway through the shoot. The filmmakers employed a number of tricks to work around his absence, like pulling from old footage and using Walker's brothers as stand-ins.
Now sources claim they also employed Weta Digital to essentially re-create Walker in CG — and that their "cutting-edge work" is bringing us ever closer to a future full of CG actors. Directed by James Wan, Furious 7 opens April 3. [Variety / THR]
Now that James Wan is done with Furious 7, he's turning his attention to The Conjuring 2. Right now, Wan explained, that means plugging away at the script:
I've been working very heavily on the script, and the idea of continuing the saga of Ed and Lorraine Warren is actually very exciting. So the idea of going back to kind of nurture my baby that I created is part of the reason why I'm going back to do The Conjuring 2. And in some ways it'll be like a holiday break for me after this film.
And Wan doesn't intend to slow down any time soon. "While I do Conjuring 2 my plan would be to start setting up and finding that next big film that I want to jump into," he said. The Conjuring 2 will shoot later this year for release on June 10, 2016. [Collider]
Some time ago there were reports that Independence Day 2 would feature a gay character. In a more recent interview, director Roland Emmerich clarified that there there would actually be two gay characters:
We have a gay couple in the film. We don't make a big deal out of it. You start small and then you get bigger and bigger and bigger, and one day you have a gay character as the lead and nobody will wonder at it no more. But we're not there yet. It's really interesting, you know, when you go to a studio and say it's [the lead] character and it's a $150 million or $160 million film — they will not allow it. But when you have five characters, they allow [one of them to be gay] because they're super-smart, you know?
There's still a long way to go in terms of LGBT representation. As Emmerich points out, our multiplexes aren't exactly saturated with LGBT leads. Still, Independence Day 2's gay couple could be a nice reminder of how far we've come since 1996, when the first movie was released. [THR]
Scotty's next challenge may be his biggest yet. Simon Pegg admitted he finds the task of writing Star Trek 3 to be "terrifying." Still, he hopes to do right by the property:
I'm walking into a realm that doesn't belong to me, and I have to treat it with a degree of respect. [...] I have to abide by certain rules and do right by the original series, and not be too post-modern with it and not be too aware of itself. I have to try to take on the spirit of the show, rather than fill it with stuff that people will just go, "Oh, yeah, that's from episode something or other." It's more than that.
Pegg added that the script will be done in June "come hell or high water," though they'll continue tweaking it through the shoot. Star Trek 3 opens July 8, 2016. [Collider]