'Fifty Shades Of Grey' Sequel Officially Needs A New Director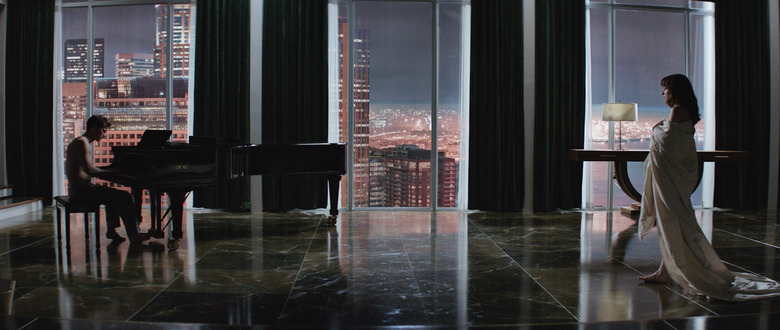 Since even before the release of Fifty Shades of Grey, there was conflict evident between director Sam Taylor-Johnson and the novel's author E.J. James. Once the film was released, despite its success, that conflict became one of the defining conversations about the movie. Sam Taylor-Johnson quickly seemed like she was distancing herself from the series in general, and specifically that she was increasingly less interested in directing the sequel.
Now the word is out: Sam Taylor-Johnson has definitively removed herself from the series, so Fifty Shades Darker needs a new director. 
Taylor-Johnson told Deadline,
Directing Fifty Shades of Grey has been an intense and incredible journey for which I am hugely grateful. I have Universal to thank for that. I forged close and lasting relationships with the cast, producers and crew and most especially, with Dakota and Jamie. While I will not be returning to direct the sequels, I wish nothing but success to whosoever takes on the exciting challenges of films two and three.
So now producer Dana Brunetti and Universal need a new director (or directors) for the second and third films. There's also the question of the screenwriter. Kelly Marcel, who wrote the first movie, won't script, and E.L. James has been lobbying Universal to write the script herself. The studio is reportedly considering that idea, but also looking at other options. At this point, with a script yet to be written, the sequel probably won't shoot until early 2016 at least.
Jamie Dornan and Dakota Johnson are both optioned for the sequels, and will return as Christian Grey and Anastasia Steele.