Idris Elba In Talks To Play Villain In 'Star Trek 3'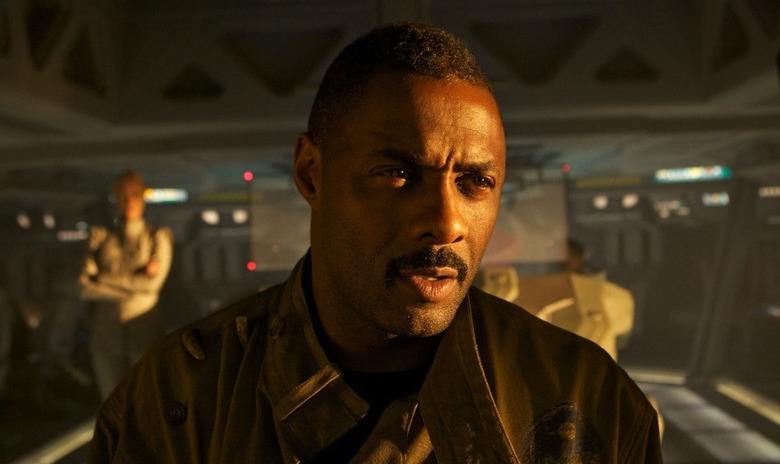 In the rebooted Star Trek franchise, it's all about the villains. Or at least pre-release, it is. Everyone knows who the main characters are but there's always a question of who they'll be tangling with. In the second film, the identity of Benedict Cumberbatch's character was a particular spot of controversy. So that begs the question: will villain questions continue into part three?
The early answer to that question is "Yes." Variety reports that Idris Elba is in early talks to play a villain in Star Trek 3. However, there are no details on who – or what – he could be playing. Directed by Justin Lin, the film is scheduled for release July 8, 2016. Read more about the Idris Elba Star Trek 3 news below.
Variety broke the Idris Elba Star Trek 3 news. Here's what their report says about the role itself:
Details of Elba's role are keeping kept under wraps. Early rumors suggest that Klingons would be the main villains in this movie, as they have not had a full presence in previous installments, but sources would not confirm if that was the case.
So what's the status of Star Trek 3? Simon Pegg, who is co-starring and co-writing the film, recently spoke to Collider about the film and said that the script was far from done:
Come hell or high water [I'll be done in], June. I'm busy writing it. It's an ongoing thing. I'm sure we'll be finessing it, right through the shoot. You never really, truly start writing a movie until the edit. There's a whole new lexicon that you're confronted with, when you've shot the movie, which is the visual language that you don't have on the page. And then, you start to realize, "Hang on, we don't need that speech because that look says it all." So, it will be an ongoing thing, right until next year.
Which is to say, while the main villain role has likely be settled on, without a full script, you can imagine Elba might be a little trepidatious.
If he does take the role though, Justin Lin just picked himself a winner. Elba is a born star, from his early work on The Wire, a starring role in Luther, to supporting roles in Prometheus, Pacific Rim and Thor. Time and time again Elba's proved he's a commanding, talented screen presence. He'll be a formidable villain for the Enterprise.
Star Trek 3 opens July 8, 2016. What do you think of the Idris Elba Star Trek 3 news?