Greg Rucka And Michael Lark's 'Lazarus' Is Being Turned Into A TV Series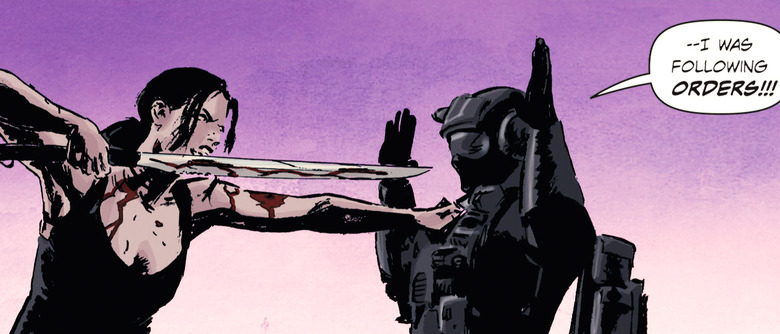 Yet another comic book series is being adapted for television, but this one isn't the typical superhero fare. Legendary Television has picked up the rights to Lazarus, Image Comics' dystopian sci-fi series by Greg Rucka and Michael Lark.
Get all the details on the Lazarus TV series after the jump. 
THR reports Legendary won the rights to Lazarus in a competitive bidding war. Rucka himself will write the pilot, as well as executive produce with Lark. Also serving as executive producer is Matt Tolmach, who's known for producing the Amazing Spider-Man movies.Lazarus unfolds in a futuristic world ruled by 16 wealthy families. Each clan has a Lazarus, or a genetically engineered, unkillable being that protects the family by using force and deception. At the center of the story is one such Lazarus, who goes by the name Forever Carlyle.
Rucka and Lark's series has earned strong reviews since its debut in 2013. Not that acclaim is new to this team. Rucka is a five-time Eisner Award winner known for his Atticus Kodiak novels and his work on DC Comics' Batman books.
Lark is a two-time Eisner Award winner whose art has appeared in popular titles like Daredevil and Captain America. The pair previously teamed up for DC Comics' Gotham Central, about the long-suffering Gotham City Police Department.
This isn't the first time Rucka has captured Hollywood's attention. His comic book series Whiteout was previously made into a movie starring Kate Beckinsale. (No one actually liked that film, but that hardly seems to be Rucka's fault.) Another of his comic book series, Queen & Country, has an adaptation percolating at Fox.
Legendary Television launched in 2013 and currently has two other series in pre-production. One is Colony, an alien drama by Carlton Cuse which was given the go-ahead by USA. The other is Love, a Netflix series comedy co-created by Judd Apatow. Also in the works from them are Carnival Row, which Guillermo del Toro is developing for Amazon.