'Slow West' Trailer: Michael Fassbender Guides A Lovelorn Boy Through The Wild West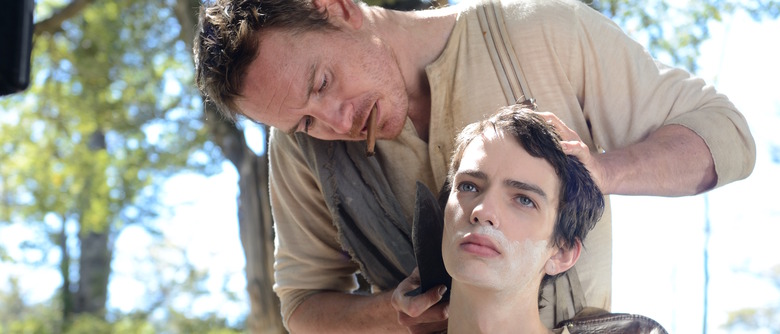 If you were following our dispatches from Sundance this year, you might already know to be excited for Slow West. Directed by John Maclean, the Western stars Kodi Smit-McPhee as a young man who journeys from Scotland to the American West to find his lost love (Caren Pisorious). Along the way he's joined by Silas (Michael Fassbender), a mysterious gunslinger who guides and protects him.
As much as we love grim, gritty Westerns, part of what makes Slow West so intriguing is that it looks like so much more than that. It's dark and violent, sure, but it's also laced through with black humor, Biblical allegory, and even a slight a fairy tale feel. Watch the Slow West trailer after the jump. 
Watch the Slow West trailer embed below or click over to Apple for HD.
Slow West certainly has style to spare. From the opening notes of the trailer, it's clear this is a unique piece of work. That tonal balance between twee and twisted has to be tough to master, but kudos to Maclean for nailing it and to A24's marketing team for capturing that same spirit in a two-minute trailer.
If that charming trailer weren't enough to get your attention, here's what Russ had to say about it at Sundance:
This film is to the western as Hanna was to the espionage thriller — a meditative journey shot through with scenes of violence and characterized by allegorical storytelling that constructs its own reality so thoroughly that it has the feel of a fairy tale. [...] Gorgeously filmed and enlivened by a deep sense of gallows humor, Slow West features yet another great performance from Michael Fassbender, and culminates in one of the most stylish and memorable sequences I've seen in a long time.
Slow West will be available exclusively on DirecTV April 16 and then it hits theaters and VOD on May 15. Ben Mendelsohn and Rory McCann (the Hound from Game of Thrones) also star.