'Super Troopers 2' Reaches $2 Million Minimum; 20th Century Fox Will Distribute [UPDATED]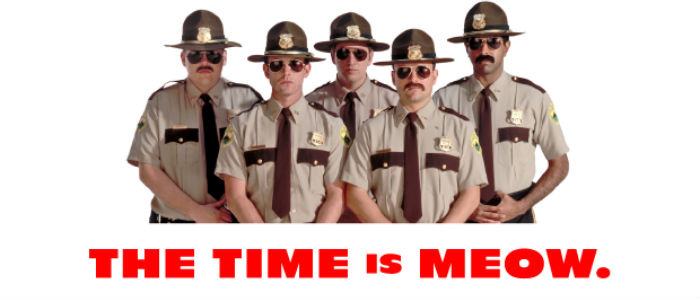 "The time is meow." That's what the guys from Broken Lizard have to say about Super Troopers 2. After years of teasing fans and assuring them the film is on the way, the sequel is finally coming. 20th Century Fox has agreed to distribute the film but they need to see that the fans care. To show that fan support, Broken Lizard has started a Super Troopers 2 Indiegogo page hoping to raise at least $2 million. If it doesn't raise $2 million, the film won't happen. If they raise more, they'll do bigger stuff in the movie. The hope is to shoot this summer and release in early 2016.
Below, read more about the Super Troopers 2 release and Indiegogo.
UPDATED: The initial $2 million was reached in a single day. This movie is happening. Now it's just about how big the movie can get. Read more below.Collider broke the Super Troopers 2 release news. Head there to see a full interview with the cast.
But the big news can be found on supertroopers2movie.com. That's where you can find the really awesome perks that range from movie tickets to actually winning the car in the movie. They've also filmed a really funny pitch video featuring the whole gang in character (not embeddable).
Fox has agreed to distribute, so if the film gets funded, it will get a release. That's a big difference between this film and 99% of other movies being crowdsourced.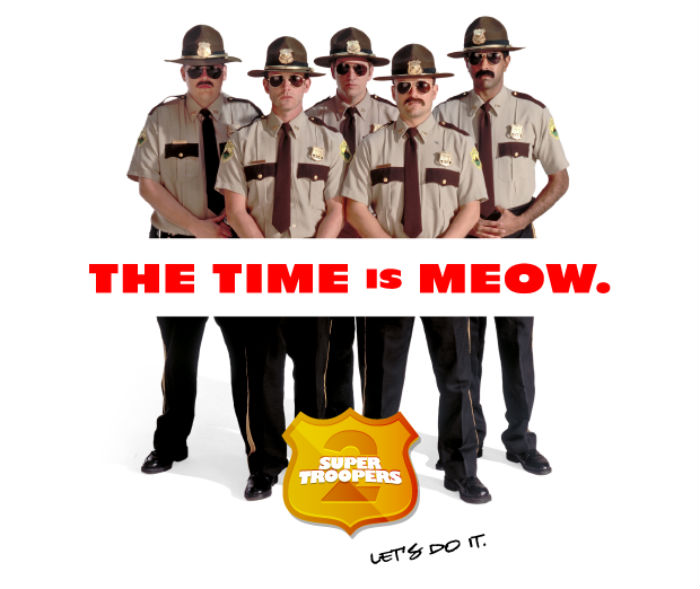 Here's a little bit from the page. Head to the above links for more:
We've been waiting for years to do this, and meow the time has come. Our mustaches are thick, furry, and authoritative. The script is written and we're getting all antsy in our pantsy to start shooting. There's just one problem:While the studio has given us permission to make the sequel, and agreed to distribute it (at least in the USA and Canada), we need to fund the movie ourselves.So this is how it works: if we're able to raise at least $2,000,000 in the next month, we'll be able to get to work on a barebones version of Super Troopers 2 this summer. But $2,000,000 is the bare minimum we'll need to get into production.We've got some big stuff in the script, and if we're able to raise enough money, you'll get to see all of it. The more we raise, the more amazing stuff we can put in the movie. More action, more cameos, more shenanigans, and fine, more Farva.And here's the other thing: to get Super Troopers 2 a wide release – to get it into a theater near YOU – we need to prove that there's a real demand to see it, and not just a dozen stoners who keep asking for it over and over.That means: the more people who contribute to help make the movie, the better our chances of getting a wide release, and coming to a theater where you can enjoy our new shenanigans in their full, cinematic splendor.