Marvel Confirms Russo Brothers To Direct 'Avengers: Infinity War Parts 1 And 2'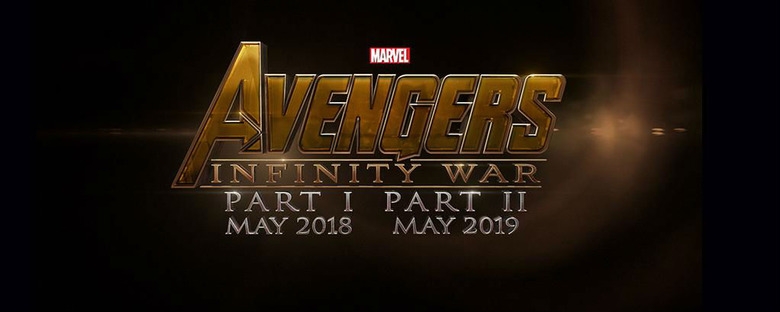 Update: Marvel has now confirmed this story from March 23. Read the press release here. Original story follows.
Big news coming out of Marvel Studios. Badass Digest reports that Anthony and Joe Russo have just closed their deal to direct Avengers: Infinity War Parts 1 and 2. They're about to go into production on Captain America: Civil War and will do back to back Avengers films after that. The latter set of films are scheduled for release in May 2018 and May 2019, as the handy image above shows.
But where does that leave Spider-Man and Ghostbusters, two properties the Russos have also been mentioned for? We'll discuss those, and the Avengers Infinity War directors below.
Badass Digest broke the Avengers Infinity War directors news. They said to expect an announcement soon and have a very good track record when it comes to superhero scoops.
We'd heard the Russos were clamoring to do Avengers 3 and 4 after Civil War and that Marvel loved the idea. In fact, everyone was pretty much certain that they would take over, especially since Joss Whedon is done with directing Avengers movies after Age of Ultron.
However, things became murky when Spider-Man – a franchise the Russos adore –  came back into play for Marvel. Then, we again wondered what would happen when the Russos were attached to a new Ghostbusters movie with Channing Tatum. You'd think this deal would almost certainly knock them out of those Sony projects, but maybe not.
In Infinity War they still get to play with Spider-Man. So that's one thing. And though BAD reports filming on Avengers will go back to back in 2016 and 2017, those dates are very early for a 2018 and 2019 release date. If Sony does want them to make Ghostbusters for 2017, it's not impossible. They could shoot that while in post on Captain America: Civil War, or directly after, then jump right into Avengers: Infinity War. It would basically mean about four years of non-stop work for the brothers but it's possible. That's just speculation, however.
There are still no writers attached to Avengers: Infinity War, but apparently Marvel is courting Captain America writers Christopher Markus and Stephen McFeely, who've become the go to duo.
What do you think of the Avengers Infinity War news?