Chuck Palahniuk Novel 'Lullaby' In Development, Palahniuk May Co-Write Script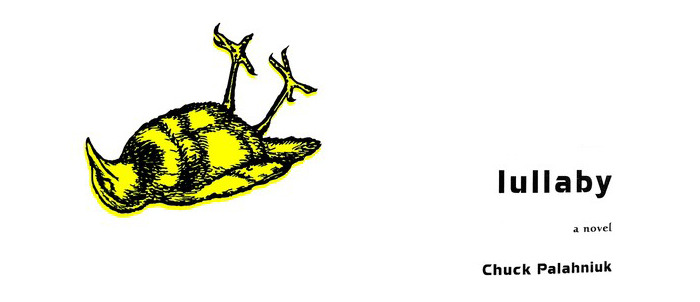 Only two feature films have been produced based on novels by Chuck Palahniuk. One, Fight Club, was a studio production. The other, Choke, was an indie affair, directed by Clark Gregg, now much better known as Marvel's Agent Coulson. There have been other options sold, and other development attempts, but for the moment that set of two films is it. But now Palahniuk's novel Lullaby, which features a reporter who discovers a song that can kill, has been optioned for an indie production, and the author may even end up working on the script.
The Wrap reports that Andy Mingo will direct the adaptation, which will be produced by Josh Leake. The site says that Mingo and Palahniuk, who are friends, will likely co-write the script, and reports that Leake says the hope is to shoot early next year. Lullaby may shoot in Portland and eastern Oregon, or it could go to Louisiana.
Palahniuk's involvement as a potential co-writer may be particularly meaningful for this project, as the novel is rooted in part in the murder of the author's father, and Palahniuk's process of wrestling with a hope to have the convicted killer sentenced to death.
Here's a synopsis of the novel:
Ever heard of a culling song? It's a lullaby sung in Africa to give a painless death to the old or infirm. The lyrics of a culling song kill, whether spoken or even just thought. You can find one on page 27 of Poems and Rhymes from Around the World, an anthology that is sitting on the shelves of libraries across the country, waiting to be picked up by unsuspecting readers.
Reporter Carl Streator discovers the song's lethal nature while researching Sudden Infant Death Syndrome, and before he knows it, he's reciting the poem to anyone who bothers him. As the body count rises, Streator glimpses the potential catastrophe if someone truly malicious finds out about the song. The only answer is to find and destroy every copy of the book in the country. Accompanied by a shady real-estate agent, her Wiccan assistant, and the assistant's truly annoying ecoterrorist boyfriend, Streator begins a desperate cross-country quest to put the culling song to rest.