New 'Furious 7' Clip Pits Jason Statham Against The Rock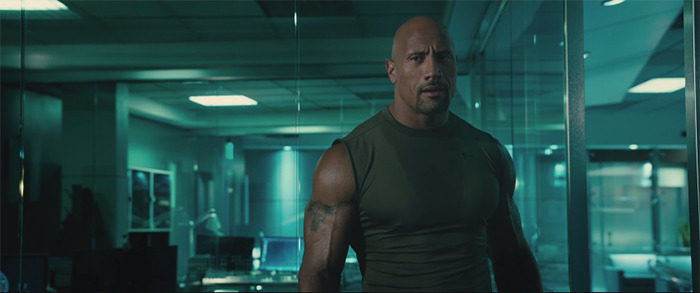 Furious 7, directed by James Wan, opens in a couple weeks, and Universal has dropped a new clip. We saw the film last weekend at SXSW, and didn't love it, but can't argue with the fact that it gives some fans what they want, and acts as a respectful send-off to the late Paul Walker.
But this clip has nothing to do with the latter, and everything to do with the former. It shows off an encounter between Jason Statham, playing the film's big bad, and The Rock, playing the film's sweatiest law-enforcement machine.
No big spoilers here; this is from the very beginning of the movie — it's basically part of the setup for the whole film.
The way that fight turns out has a big effect on the film, but this clip cuts off well before the resolution of the scene. You'll see it in full when Furious 7 opens on April 3. Clip via Machinima.
Continuing the global exploits in the unstoppable franchise built on speed, Vin Diesel, Paul Walker and Dwayne Johnson lead the returning cast of Fast & Furious 7. James Wan directs this chapter of the hugely successful series that also welcomes back favorites Michelle Rodriguez, Jordana Brewster, Tyrese Gibson, Chris "Ludacris" Bridges, Elsa Pataky and Lucas Black. They are joined by international action stars new to the franchise including Jason Statham, Djimon Hounsou, Tony Jaa, Ronda Rousey and Kurt Russell. Neal H. Moritz, Vin Diesel and Michael Fottrell return to produce the film written by Chris Morgan.