POTD: Jay And Silent Bob Reunite Teasing Stan Lee And Michael Rooker's Return For 'Mallrats 2'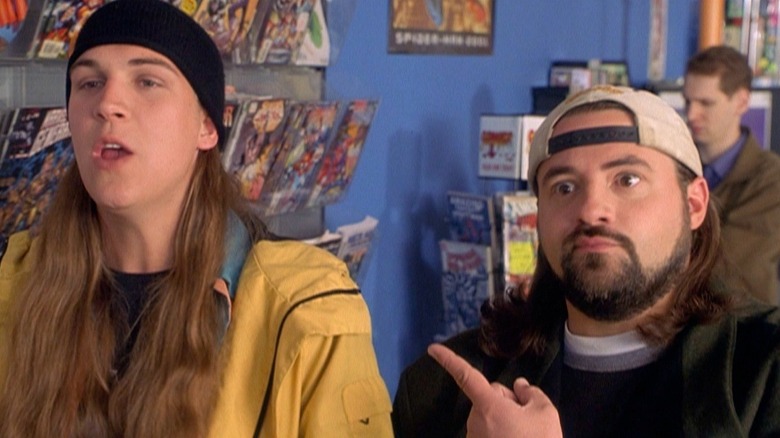 Well, is it coming or what? Yes, Mallrats 2 is coming according to filmmaker Kevin Smith. The writer/director first teased the sequel on his Twitter before clarifying on his podcast. Now, he's gone a step further and teased two key ingredients in the first film that could be back for the follow-up. They are Stan Lee, who played himself in the original, and Michael Rooker, who played the evil Mr. Svenning, father to Brandy, who married TS when Jaws popped out of the water.
Below see Smith's Mallrats 2 cast teaser image and read some more about Mallrats 2.
The photo comes from Smith's Twitter.
Goin' back to the MALL, ya'll! @TheRealStanLee, @JayMewes @RookerOnline & me make a # 2. A pre-review of the movie? pic.twitter.com/vKOeotK2I1

— KevinSmith (@ThatKevinSmith) March 20, 2015
And here's a bigger version.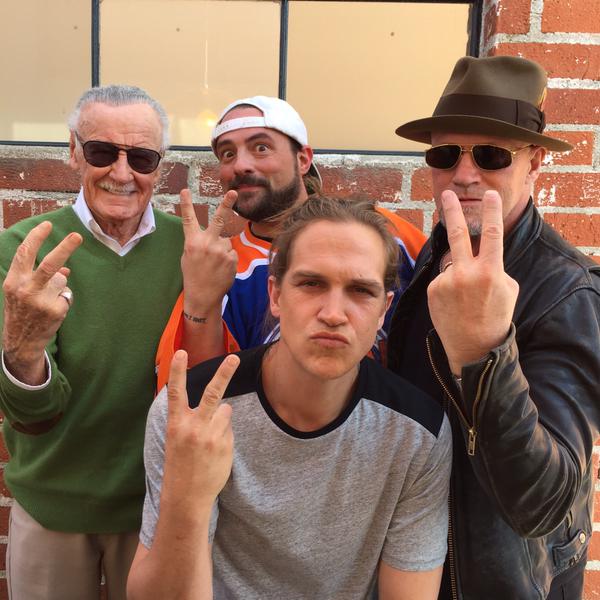 Smith explained the photo in detail on his Facebook:
We goin' back to the MALL, ya'll! Stan Lee, Jay and Silent Bob and Michael Rooker are making a number 2. Talking about in this picture, not the movie. I'm aiming for the movie to be good. (This pic was taken yesterday, as all four of us gathered to shoot a really adorable Stan-centric spot for Audi that you'll see online as we get closer to the release of Marvel's Avengers: Age of Ultron.)
So this doesn't confirm anything at all, but Smith is smart. He knows what he's doing. I think the bigger issue in a straight Mallrats thing is including Mr. Svenning could be problematic. Actors Jeremy London and Claire Forlani didn't exactly fall into the Askewniverse after Mallrats so including a character that's so linked to them might be odd. Then again, it's frigging Michael Rooker and Smith could say TS and Brandi died in a plane crash for all we care.
For more on Mallrats 2 and why Smith decided to finally make it (or more accurately, write it to make after three other movies) click on this link. Did you like the Mallrats 2 cast photo?