Charlotte Gainsbourg Goes From 'Nymphomaniac' To 'Independence Day 2'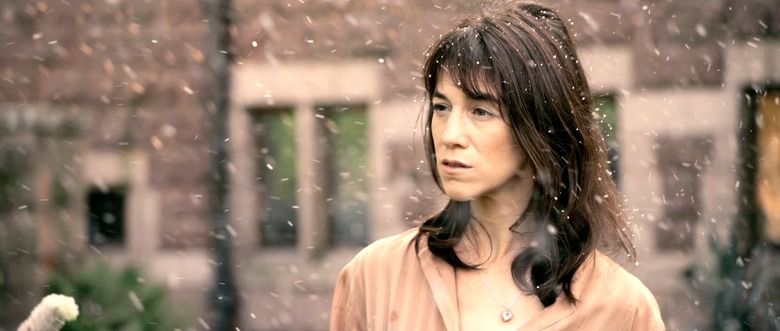 Independence Day 2 has added an unlikely source of star power. French actress Charlotte Gainsbourg is boarding the Roland Emmerich-directed sequel, joining Jeff Goldblum, Liam Hemsworth, and Jessie Usher.
A big-budget sci-fi adventure is an unusual move for Gainsbourg, recently best known for being Lars von Trier's muse. But maybe those von Trier movies are actually the perfect preparation for Independence Day 2. After the crap she's been through in Antichrist, Melancholia, and Nymphomaniac, killer aliens should be a piece of cake. 
THR reported the news. Emmerich and Dean Devlin wrote early drafts of the Independence Day 2 script, followed by rewrites from James Vanderbilt and Carter Blanchard. Last we heard, the sequel was set about two decades after the 1996 original, pitting a new generation of fighters against the next wave of invading aliens.
As previously reported, Usher will play Dylan Dubrow, the stepson of Will Smith's character Steven Hiller. Ross Bagley played Dubrow in he earlier film. Smith himself will not return.
Hemsworth is rumored but not confirmed to portray the son-in-law of President Whitmore, played by Bill Pullman in the original. Pullman is expected to reprise his role and has expressed his interest in the project before, but he hasn't yet been confirmed.
There are few details on Gainsbourg's role right now. I do wonder if it'll be like the time Juliette Binoche signed up for Godzilla. Her name added some prestige to the project, but she wound up with just a few minutes of screentime.
Aside from her work with von Trier, Gainsbourg's credits include Todd Haynes' I'm Not There, Michel Gondry's The Science of Sleep, and Alejandro González Iñárritu's 21 Grams. Next up for her is Oppenheimer Strategies, a drama starring Dan Stevens, Richard Gere and Michael Sheen.
Independence Day 2 is scheduled to open June 26, 2016, almost exactly 20 years after the first film hit theaters.