'Man Up' Trailer: Simon Pegg Woos Lake Bell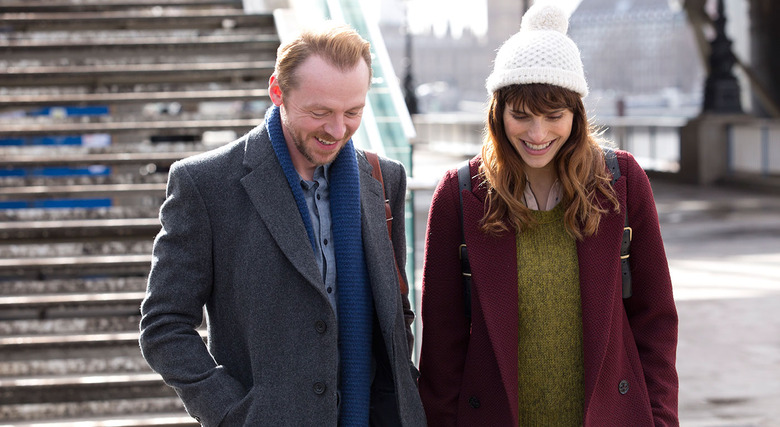 When he's not collaborating with Edgar Wright, beaming up James Kirk, or nearly fumbling missions with Ethan Hunt, Simon Pegg can apparently make for a pretty convincing romantic lead. At least that's what the new Man Up trailer wants to believe, in which he plays a man who catches the eye of unlucky-in-love Lake Bell.
She's a cynic who's all but given up on finding love; he's a charming romantic who's been set up on a blind date. Through a series of only-in-the-movies mix-ups, he mistakes Bell for his blind date, and they proceed to hit it off before the embarrassing truth comes spilling out. Watch the Man Up trailer after the jump.
Yahoo UK premiered the Man Up trailer.
Really, this just looks like your run-of-the-mill romcom, from the wacky misunderstanding that sets the plot in motion to what looks like a grand third-act declaration of love. But the romcom formula has endured for a reason. It can be damn winning if you have the right actors and the right chemistry, and Pegg and Bell are about as likable as they come.
Directed by Ben Palmer, Man Up opens May 29 in the U.K. No U.S. theatrical release date has been set yet, but you can catch its premiere at the Tribeca Film Festival next month.
Nancy (Lake Bell), is done with dating. 10 times bitten, 100 times shy, she's exhausted by the circus. So when Jack (Simon Pegg) blindly mistakes her for his date, no one is more surprised than her when she does the unthinkable and just goes with it. It's going to take a night of pretending to be someone else for Nancy to finally Man Up and be her painfully honest, awesomely unconventional self... but will Jack also Man Up, and be able to get over her duplicity? Best just to let the evening unfold, roll with the consequences, and see if one crazy, unpredictable, complicated night can bring these two messy souls together.