'Chrononauts' Movie: Universal Is Adapting Mark Millar's Time-Travel Comic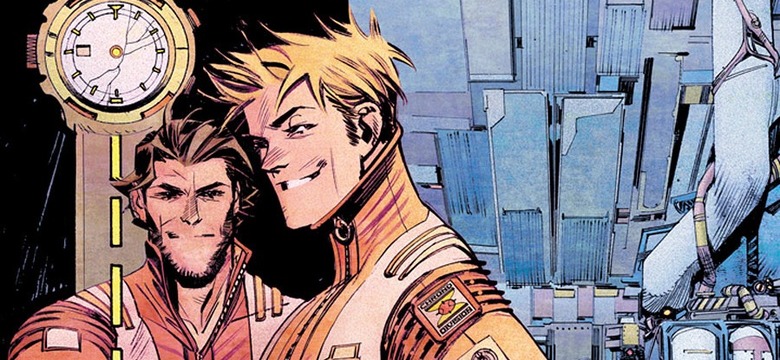 Even if you don't read comic books you probably know comic creator Mark Millar from his many film adaptations such as Wanted, Kick-Ass and most recently Kingsman: The Secret Service. It seems like almost every Millar comic book gets optioned for the big screen these days, the last being Starlight, which has Star Wars spinoff screenwriter Gary Whitta work writing.
That a new Millar book would be immediately optioned is so obvious that the latest Millar comic Chrononauts, which was released just this week, featured a letter in the "letters to the editors" pages speculating about the possible feature film adaptation. And days later we learn a movie is indeed in the works at Universal. More details on the Chrononauts movie adaptation after the jump.
Chrononauts Movie Details
About the Chrononauts Comic Book
Issue #1 of  Chrononauts was released this week, and follows the story of the first scientific duo who travel back through time. Here is the official comic description:
From MARK MILLAR (Kick-Ass) and SEAN GORDON MURPHY (Punk Rock Jesus) comes a bromance for the ages! Corbin Quinn and Danny Reilly are two buddies who love to have fun. They're also scientific geniuses. When their research leads them to a time-traveling adventure, will they use their knowledge for the good of all mankind? Or use the space-time continuum for their own ends? This is the story of man's first, televised steps through the time-stream and everything going wrong in the process.
Chrononauts Mini Review/Reaction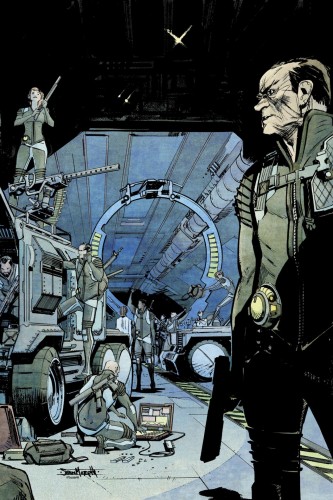 I just read the first issue through Comixology. (An app I both love and hate — hopefully Amazon will someday restore in-app purchasing). Anyone who has read /Film for any length of time knows that I'm a time travel fanatic, so I was excited to see what Millar would do with this genre. The story introduces some great ideas, including the first time travel test being a unmanned satellite, resulting in a Apollo-like television news moment complete with a live feed of a pivotal American moment in time as photographed from space. I mean, isn't that cool? I can imagine that in the film. I also love the design and idea of time travel displacement suits and not going for a tradition time machine vehicle.
The first issue is a single issue length, so the set-up is pretty short and left me wanting more — which might be a good thing. But the characters at the center of the story seemed a bit too 'bro-y" for me, and the inciting incident that pushes us into this time travel adventure happens kind of sloppy in this first issue. All of that said, I'm in and subscribed and am interested to see where this story goes and hope that the characters grow on me more as the adventure unfolds.
You can see more images from the first issue of Chrononauts on the Image Comics website. Image Comics is quickly becoming my favorite comic book company, I'm reading so many of their series right now.