Miramax Developing 'Brothers Grimm' TV Series Based On Terry Gilliam Film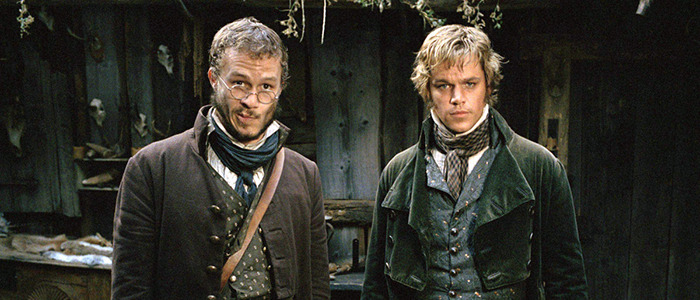 The Brothers Grimm, hampered by the Weinsteins, budget squabbles and post-production delays, isn't the finest moment for any of the people involved, and especially not for director Terry Gilliam. But the film lives on as part of the Miramax library, and now the company is turning it into a Brothers Grimm TV series.
Matt Damon probably won't reprise his role as one half of the sibling duo that (in the film's twisted telling) was a medieval con artist team before being known as chroniclers of folk tales. And since his on-screen partner was the late Heath Ledger, new casting will certainly be required. But there is one talent returning from the original film, and (sadly) it isn't Terry Gilliam.
To write the series Miramax has hired Ehren Kruger, who wrote the spec script that launched Gilliam's film, and won writer's guild arbitration to keep his name on the movie even after Gilliam and Tony Grisoni heavily rewrote it.
This new show will be about "the swashbuckling adventures of brothers Wilhelm and Jacob Grimm, who discover startling mythological and supernatural stakes behind the folklore that swept 19th century Europe." (via The Playlist.)
Miramax Vice President of Television Daniel Pipski said,
We reached out to Ehren Kruger and producing partner Daniel Bobker to see if they had any interest in making 'The Brothers Grimm' movie into a TV show and the pitch Ehren came back with blew us away. We're thrilled to be working with a writer of his caliber.
Kruger said,
The original stories the Brothers set out to collect were not for the faint of heart and we'll be making a show that gets back to those origins and their cautionary, scary, thrilling spirit.
The problems listed above were just a few of the issues Gilliam faced; the Weinsteins also fired his cinematographer, and clashed with Gilliam over the film's final cut. But at least, unlike The Man Who Killed Don Quixote, which Gilliam had started to shoot before Grimm, this one was finished and released.
We heard quite a while back, even before the recent trend of film-to-TV developments really gathered steam, that Miramax wanted to convert a bunch of film properties into TV series. Most of those haven't gone anywhere (publicly, at least) so we'll see what happens here. In truth, there's a pretty obvious series concept inherent in this Brothers Grimm idea, and since there was once the thought of using the first film to launch a movie series, perhaps Kruger already has ideas stockpiled.