Cool Stuff: 'Cut It Out,' Pop Culture Silhouettes By Jordan Monsell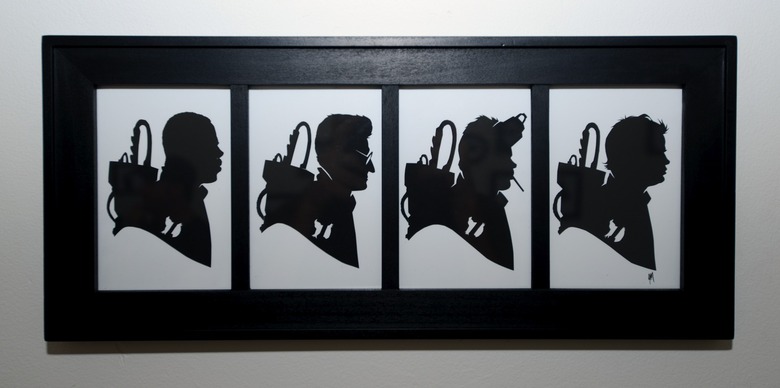 Los Angeles has a double-dose of great pop culture art debuting Friday night. Gallery 1988 has their postcard show (check it out here) and the Hero Complex Gallery has Cut It Out: The Silhouette Art of Jordan Monsell. Monsell uses scissors to create the outlines of pop culture icons from TV movies and more. Almost every piece in the show is an original work and there's something for everyone.
Cut it Out opens from 7-10 p.m. March 20 with a bunch of cool giveaways and remains on display through March 29. Check out a small preview of the pop culture silhouettes below.
Cut it Out opens from 7-10 p.m. March 20 at the Hero Complex Gallery, 2020 South Robertson Blvd., Studio D, Los Angeles, CA. It'll remain on display through March 29 and all remaining art goes on sale around 1 p.m. PST March 21. Full info here.
Here are a few pieces from the show.
According to the write up, there are several freebies and giveaways at the opening:
If you are in the Los Angeles area, please visit with us to view this show in person, because Jordan has put a tremendous amount of work into this show, and there will literally be HUNDREDS OF POP CULTURE SILHOUETTES ON THE WALL, with something for everyone, and in all price ranges.
Other than the door prizes (3 prints in editions of 10 only) and one other print that will be for sale, every piece in this show is an Original One-of-a-kind Framed piece, and was hand-crafted with a pair of scissors. You will be amazed by the skill and complexity of Jordan's work, especially in some of the EPIC pieces he's created!
It should also be mentioned, if you think you've seen this show before, you aren't crazy. It's a similar idea to the one Gallery 1988 did in 2011 with Olly Moss. You can read about that here. However, Josh Garrell, one of the show's curators, said this about the comparison:
Jordan is a second generation silhouette artist, a skill passed on to him from his mother. Though not as well known as Olly Moss, his work has been shown in galleries around Los Angeles since 2009. Hero Complex Gallery is excited to be hosting his first solo exhibit.
Which of the above pop culture silhouettes are your favorite?