Marvel Comics Will End 33 Series' As A Result Of 'Secret Wars'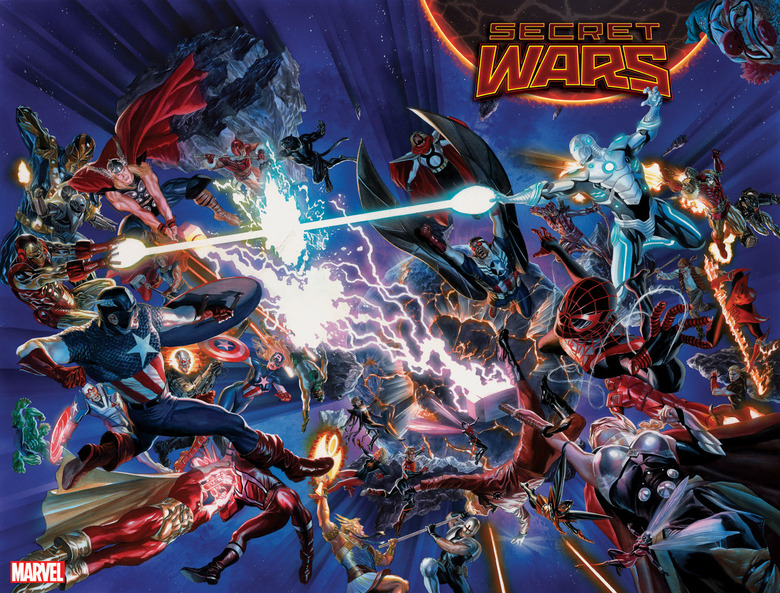 Normally we only cover comic books peripherally but, when a company like Marvel reveals they're going to be ending almost three dozen comics as a result of a new storyline, we figure it's worth noting.
Speaking to ComicBook.com, Marvel's SVP of Sales & Marketing David Gabriel confirmed they'll be bringing 33 different comics to a conclusion as a result of Secret Wars, their massive crossover event which will change the Marvel Comics universe as they know it. What are the 33 Marvel Comics ending? Find out below.
Gabriel talked to ComicBook.com and revealed the following Marvel Comics are ending around May:
All-New Captain America
All-New Ghost Rider
All-New X-Men
Amazing Spider-Man
Amazing X-Men
Angela: Asgard's Assassin
Avengers
Avengers World
Captain Marvel
Cyclops
Deadpool
Elektra
Fantastic Four
Guardians 3000
Guardians of the Galaxy
Hulk
Inhuman
Iron Fist: The Living Weapon
Legendary Star-Lord
Miles Morales: Ultimate Spider-Man
New Avengers
Nightcrawler
Nova
Rocket Raccoon
Secret Avengers
Spider-Man & The X-Men
Spider-Man 2099
Storm
Superior Iron Man
Thor
Uncanny X-Men
Wolverines
X-Men
According to Gabriel, these creative teams  are all getting a "616 finale," which will end the normal Marvel Universe stories of those books. How they chose to do it, however, was up to them:
Now in a perfect world, we'd have stopped every book with its April issue, putting out a nice clean May Previews catalog. Everyone would have seen upfront all those titles that had their finale, and all those titles that were starting fresh. But things don't always go so easily.
Instead we gave our creators the option to end their stories the way they wanted to; we let them tell "Last Days" stories if they wanted to; we let them tell Secret Wars stories if they wanted to. So in the end Secret Wars truly has been a creative driven process.
If you're like me, this all sounds very confusing. Lots of different universes and time lines and that's true. Gabriel breaks it down in the Comic Book interview if you want to know more. He also confirms that books that aren't ending, or maybe are even just starting, will be affected by the Secret Wars event.
Both in the movies and comics, Marvel loves to shake things up. What do you think of these events?