The Muppets Are Coming Back To TV; Watch Some Clips From 'Muppets Moments'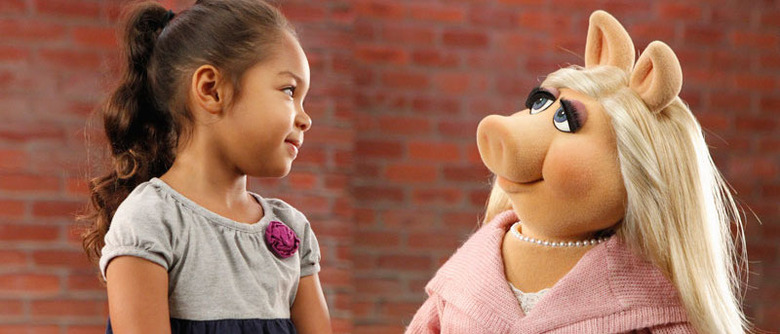 The Muppets recently made a comeback on the big screen, and now they're ready to take over the small one, too. Disney has announced a new short-form series titled Muppet Moments will premiere on Disney Junior next month. Get your first look at the new Muppets TV show after the jump. 
Disney announced the news. Targeted at children ages 2 through 7, the short-form series will feature "funny conversations—and outrageously adorable moments" between young kids and characters like Kermit the Frog, Miss Piggy, The Great Gonzo, and Fozzie Bear. Subjects covered will include "apologies, favorite foods, and manners."
Other characters slated to appear are Animal, Beaker, Dr. Bunsen Honeydew, Rowlf, Bobo, The Newsman, Rizzo, Sam Eagle, and Pepe the King Prawn. Bill Barretta is directing the series and Alex Rockwell is producing. Said Nancy Kanter, EVP of original programming and general manager at Disney Junior Worldwide:
The Muppets have been a part of nearly every family's life and we are delighted to bring back fond memories of these iconic characters for parents and create new ones for the youngest members of the family. 'Muppet Moments' highlight the Muppets doing what they do best — making kids and families laugh, while showcasing compassion and heart. Our hope is that viewers will come away seeing how funny and special the Muppets really are.
Kermit the Frog added, "In show business, they say never work with kids or animals. Well, on Muppet Moments we break both those rules and a lot more – and the results are fun, silly, and even inspiring."
Muppet Moments doesn't quite sound like the all-ages entertainment adults who grew up with these characters might have hoped for. But they will introduce Kermit and company to a whole new generation of fans, which will hopefully keep the franchise running for many years to come.
The first four shorts will debut on Disney Channel Friday, April 3 at 8:25 AM, 8:55 AM, 9:25 AM, and 9:55 AM. New shorts will appear daily through Friday, May 8, and then continue to roll out throughout 2015. The shorts will additionally be available to stream at watchdisneyjunior.go.com.
In the meantime, get your first look at Muppet Moments below. The first video is a behind-the-scenes look at the new series, and the second has the Muppets "auditioning" for other Disney Junior shows like Doc McStuffins and Sofia the First. The last is a clip from the show via Stitch Kingdom.